A senior aide to Prime Minister David Cameron said there will be no second British EU referendum. If people vote to leave the European Union in a referendum promised by the end of 2017, that will be the nation's final decision.
Mr. Cameron says he will renegotiate the UK's relationship with the EU before the vote.
Some people have suggested, including Dominic Cummings campaign director of Vote Leave, that if Brits vote to leave the trade bloc it could be used to get more concessions from Brussels before a second vote.
Boris Johnson, the Mayor of London, seen by many as the next Tory leader, is said to favour the idea of two referendums.
Since 1977, overall, more people have favoured staying in than getting out. Recently, however, the Brexit camp has gained while the percentage of stayers has declined. (Image: www.ipsos-mori.com)
In an email briefing to Reuters, the aide wrote:
"The Prime Minister is clear that is simply not going to happen. From the outset, he has been clear this will be a straightforward in/out choice and that's exactly what it will be. Leave means leave. It is not credible to suggest that the majority of the British public could vote to leave and then the UK government would ignore the voters and negotiate to remain."
---
---
The aide added that the 27 other EU members would not allow the UK to negotiate twice with Brussels.
The aide said:
"Trying to muddy the waters as they are and suggest that we can have a second chance if we vote leave suggests that the Leave campaign lacks confidence in its own case and is worried about the risks. Otherwise it would unambiguously advocate a clean exit."
British electorate becoming more Eurosceptic
After a summer of reading a flood of headlines reporting on the massive numbers of people coming to Europe from Syria and other countries, an Ipsos MORI poll showed last week that support for staying within the EU has declined.
Fifty-two percent of respondents said they would vote to 'stay in' if there were a referendum today, compared to 39% who said they would choose to 'get out'.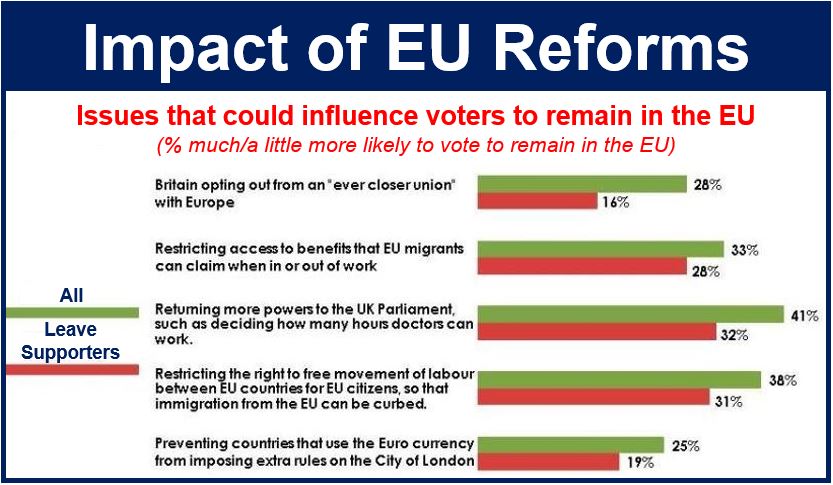 Most media commentators believe Mr. Cameron will find it extremely hard to get concessions from the EU. (Image: www.ipsos-mori.com)
This 13-percentage-point lead is considerably lower than the 34 points (61% stay vs. 27% get out) registered in June this year.
When asked what they think the outcome of a referendum today would be, 62% thought the electorate would vote to 'stay in', while 30% believed people would vote to 'get out'.
Many Brits could be persuaded either way
Fifty-three percent of respondents said they might be persuaded to change their minds, depending on the effects of the UK remaining or exiting the EU. Thirty-two percent said they were generally in favour of remaining inside, but could be persuaded to leave if they felt it was bad for Britain. Twenty-one percent said they generally opposed staying in, but could be persuaded to change their minds if the benefits were evident.
Twenty-nine percent said they were strongly supportive of staying in the EU, while 13% said they were strongly against.
The majority of people said the outcome of Mr. Cameron's renegotiations will make no difference to how they vote. Even so, the most popular reform among the Eurosceptics is the repatriation of powers to Westminster.
Norman Blackwell (Lord Blackwell) sees no compelling economic argument for keeping the UK within the EU, unless significant changes are obtained during the renegotiations.
Earlier this month, the Confederation of British Industry (CBI) said Britain is better off staying inside a reformed EU. The trading bloc, with 500 million consumers, must reform to work better for British businesses.
Video – EU referendum: How are the campaigns coming along?
Leave.EU has contrated a strategy team from the USA to help with their campaign calling for Britain to leave the EU. Sky News speaks to Gerry Gunster, president of Gunster Godard, about the campaign.