A total of 197 firms have been named and shamed by the UK Government for not paying the National Minimum Wage to their workers. Among them are recruitment firms, hairdressers, care homes and even football clubs.
The 197 companies owed £466,219 in arrears, with one London restaurant owing nearly £100,000 to thirty employees.
According to the Department for Business, Energy & Industrial Strategy, all of the money that was owed to employees has been paid back.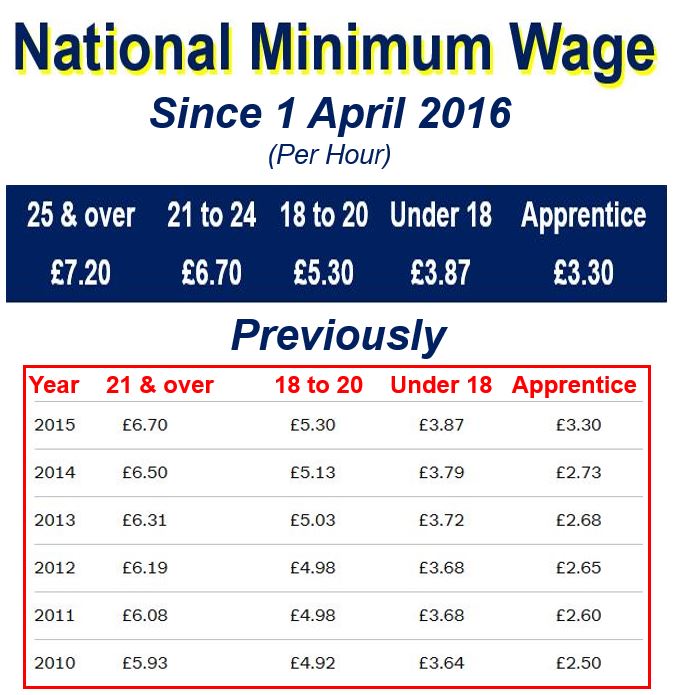 The National Minimum Wage was first introduced in the UK in April 1999. At the time it was £3.60 per hour and £3.00 for 18 to 21-year-olds. (Data Source: nidirect.gov.uk)
The naming and shaming scheme was introduced in October 2013 – this latest list was the largest yet.
Since the scheme started, 687 employers have been named and shamed – owing more than £3.5 million.
---
---
Government commitment to naming and shaming
Business Minister Margot James said:
"This government is determined to build an economy that works for everyone, not just the privileged few."
"That means making sure everyone gets paid the wages they are owed – including our new, higher, National Living Wage. It is not acceptable that some employers fail to pay at least the minimum wage their workers are entitled to."
"So we'll continue to crack down on those who ignore the law, including by naming and shaming them."
This image contains thirty of the 197 firms that were named and shamed for not paying their workers less than the legal minimum. (Source: gov.uk/government/news)
The National Living wage, which was introduced in April 2016 for employees aged 25 or more, has meant a pay rise of over £900 annually for a worker who had been working full-time on the National Minimum Wage.
For younger employees (younger than 25 years), the National Minimum Wage still applies.
---
---
It is the responsibility of the employer to inform himself or herself regarding the different minimum wage rates, which depend on the circumstances of each worker. It is also his or her responsibility to make sure that all eligible employees are paid at least the minimum rate to which they are entitled.
Ms. James added:
"The National Living Wage will be enforced equally robustly alongside the National Minimum Wage."
National Minimum Wage
The National Minimum Wage is the least an employer can legally pay a worker in Britain. How much depends on the workers age and whether he or she is an apprentice. The current rates are:
– £6.70 per hour: the main rate for employees aged at least 21 years.
– £5.30 per hour: for workers aged 18, 19 and 20 years.
– £3.87 per hour: for school-leavers aged under 18.
– £3.30 per hour: for apprentices aged under 19, or older apprentices in their first year of training. N.B. This rate does not apply to Higher Level apprenticeships.
The National Living Wage, which was introduced in April this year, is £7.20 per hour for employees aged 25 and older.
Agricultural Workers
Agricultural workers are entitled to the Agricultural Minimum Wage rather than the National Minimum Wage. No farm worker can be paid less than the National Minimum Wage (NMW).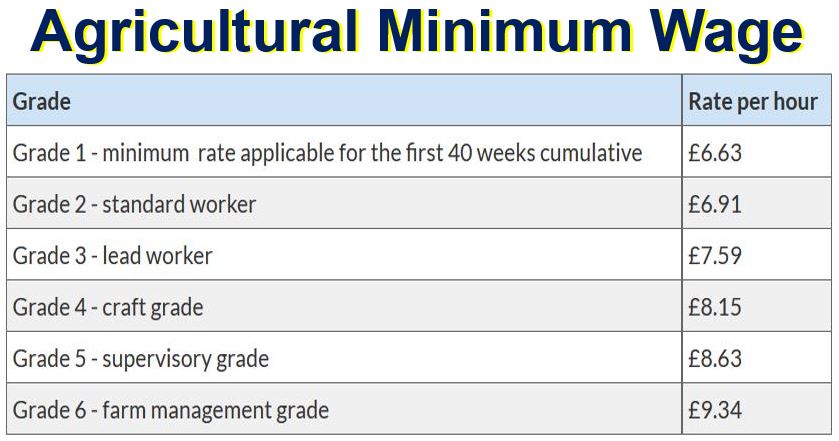 According to NIDirect Government Services: "Where at any time the NMW becomes higher than the hourly rate set out above, then the minimum rate shall be equal to the NMW." (Data Source: nidirect.gov.uk)
Some farm workers must be paid more than the NMW as there is a higher Agricultural Minimum Wage rate (see image below).
The term 'wage' refers to money paid for work done. It is similar to salary. While wages are calculate by the hour, day, week or month, salaries are calculated either annually or monthly. Blue collar workers have traditionally been paid wages while white collar workers (employees who work in offices) and their bosses received a salary. In many cases, you can use both terms interchangeably.
Video – Reaction to higher minimum wage
This Financial Times video looked at UK reaction to the higher minimum wage that came into effect on 1st April, 2016. Sarah O'Connor, FT Employment Correspondent, assesses the impact on low-paid employees and employers in teh hotel and cleaning sectors.