Gaining market share is every marketer's aim. However, market share gains do not influence a company's financial performance as strongly as many people believe. According to researchers from the University of Cologne and Kühne Logistics University (Hamburg, being market leader is not everything.
Businesses should focus less on market share and more on building a strong brand and customer relationships, the researchers suggest.
Market share gains and financial performance
If a company's market share rises by 1%, its financial performance improves, on average, by only 0.13%.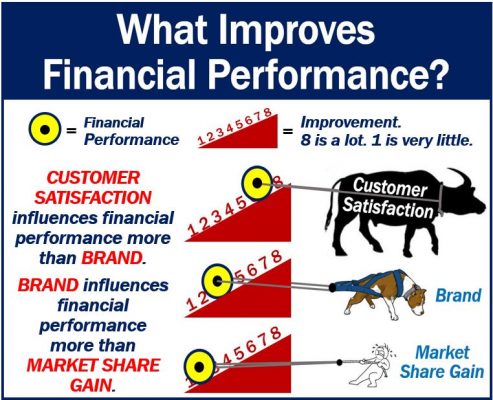 To get to these results, Dr. Alexander Edeling and Professor Prof. Alexander Himme gathered and analyzed data from 89 different studies from six continents between 1972 and 2017. They focused on the relationship between financial profitability and market share.
Dr. Edeling works at the Faculty of Management, Economics and Social Sciences of the University of Cologne. Prof. Himme works at Kühne Logistics University in Hamburg. Both universities are in Germany.
The researchers wrote about their study and findings in the Journal of Marketing (citation below).
What is market share?
Market share means how much your sales are in relation to the whole market. In other words, your company's market share means the size of its slice of the market pie.
For example, if the whole market is worth $100 million and your sales hit $20 million, your market share is 20%.
Financial performance – brand equity and customer satisfaction
Previous studies had shown that customer satisfaction had a stronger effect on financial performance than market share. Brand equity also had a stronger financial effect.
The brand delivers three times the effect of market share gains, the researchers found. Customer satisfaction's effect is even stronger – it delivers six times the effect of market share gains.
Brand consists of 'awareness', how many people know a certain company or product/service, and 'image', the brand associations that are held in consumers' memory.
Dr. Edeling said:
"Many CEOs still consider market share to be the most important indicator of business success. But in today's digital market, small companies can often produce cost-effectively and sell to a global audience."
"That allows them to compete with the industry's leading companies."
The authors suggest distributing budgets accordingly. The key to the future security and growth of a company, the authors say, are:
– Slow and steady investments in product expansion.
– Developing a brand with a potential target customer base.
– Improving customer service.
Article Citation:
Alexander Edeling and Alexander Himme (2018) "When Does Market Share Matter? New Empirical Generalizations from a Meta-Analysis of the Market Share–Performance Relationship." Journal of Marketing: May 2018, Vol. 82, No. 3, pp. 1-24. https://doi.org/10.1509/jm.16.0250.