Massive tides will hit the coasts of southern England and northern France on Saturday evening because of a rare alignment of the Moon and Sun that occurs once every 18 years. The megatide is linked to the recent solar eclipse and Supermoon, when the Moon and the Earth are as near to each other as they can be.
Meteorologists in France are forecasting tidal surges reaching a height of 14.15 metres (46.5 feet) – that's as high as a five-storey building.
Crowds have flocked from all over Europe to the French island of Mont Saint-Michel, located one kilometre (0.6 of a mile) off the coast of Normandy. The island is exposed to some of the strongest tides in Europe.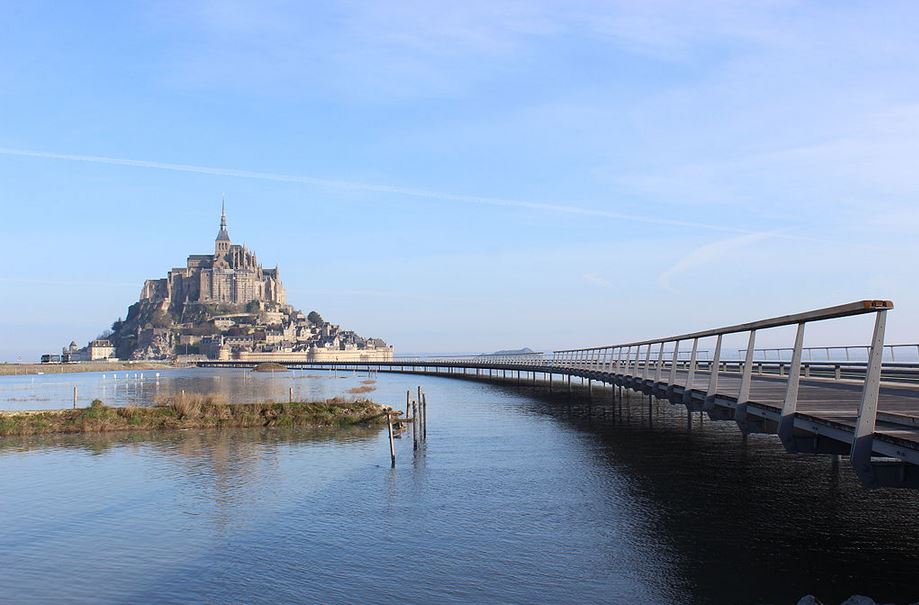 Mont Saint-Michel is connected to the French mainland by a causeway. (Image: Wikimedia)
Local police are concerned about the safety of a crowd of approximately 10,000 people when the 'highest tide of the century' comes.
France's Navy Oceanic and Hydrological Service, based in Brest, has issued warnings that when the tide comes, at about 8pm GMT, "it will come in faster than a running man." People are urged not to venture out.
France24 quoted Michael Dodds, Director of the Regional Tourism Committee, who said:
"This natural phenomenon is an incredible opportunity for tourism in Brittany at this time of year."
An OpinionWay survey reported that two-thirds of French respondents said they would like to see the supertide.
Very low risk of flooding
Residents in south coastal towns of England were reassured by the Environment Agency which announced that the risk of flooding is "very low for the next few days."
The Environment Agency told residents to expect the high tides to cause spray on the promenade and in some exposed coastal locations.
An Agency spokesman said:
"We always monitor the flood risk situation closely, working alongside partners, including the Met Office and local authorities, and issue alerts and warnings if required."
Surfers awaiting giant Severn bores
Surfers have flocked to the River Severn hoping for some super tides. The Severn bore, a wave that can go on for miles caused by the tide coming in above the river flowing in the opposite direction below, usually forms slightly upstream of Sharpness and reaches as far as Maisemore. On particularly high tides it may reach Upper Lode Lock below Tewkesbury.
Surfers will are excited about catching those bore waves on the River Severn
The supertide phenomenon will also occur in other places around the world. The Bay of Fundy on the northeast end of the Gulf of Maine between the provinces of New Brunswick and Nova Scotia in Canada should expect a surge of up to 16 metres (52.5 feet).
Video – Thousands gather at Mont Saint-Michel to see the tide