UK Government borrowing in February 2015 was down a third on February 2014, according to data published by the Office for National Statistics (ONS). Figures showed that tax receipts from self-assessment were £4.2 billion in February 2015, compared to £1.8 billion in February last year.
Government borrowing in February 2015, totaling £6.9 billion, was £3.5 billion lower than in February 2014. The figure does not include the effect of bank bail-outs, the ONS added.
Taxpayers who have not made full payments under PAYE make most of their payments to the Inland Revenue in January and February.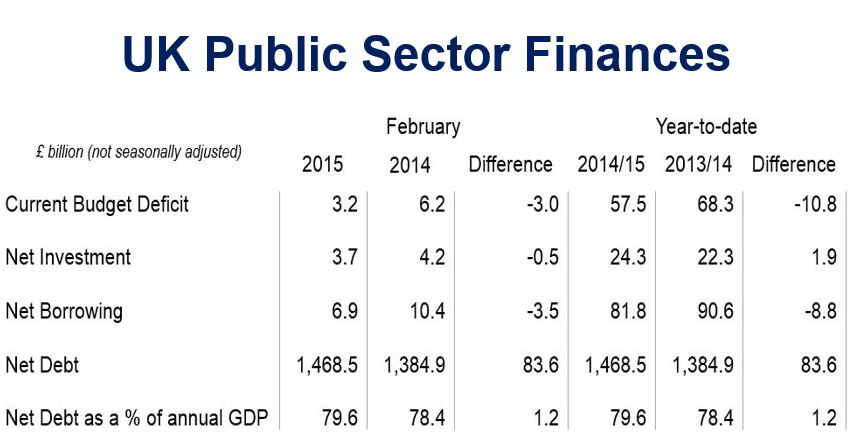 While failing in its initial plan to eliminate the deficit by 2015, the Government's latest target to borrow £90.2 billion in the current fiscal year is now looking feasible.
From April 2014 to February 2014, public sector borrowing (excl. public sector banks) stood at £81.8 billion, which was £8.8 billion less than over the same period in 2013/14.
The ONS wrote:
"Due to the volatility of the monthly data, the cumulative financial year-to-date borrowing figures provide a better indication of the progress of the public finances than the individual months."
The government's net cash requirement from April 2014 to February 2015 was £71.6 billion, which was £12.7 billion higher than for the same period in 2013/2014.
Public sector net debt excluding public sector banks was £1,468.5, or 79.6% of GDP in February 2015, which was £83.6 billion higher than in February 2014.
The ONS had to revise upward its public sector net debt (from October) calculation by £5.5 billion "as a result of a correction to previously published estimates which were erroneously double counting bank deposits held by the central government body, UK Asset Resolution Ltd."
At the end of February 2015, the Maastricht debt (General Government Gross Debt) was £1,583.3 billion, or 85.8% of GDP, and Maastricht deficit (General Government Net Borrowing) in 2013/14 was £101.6 billion, or 5.9% of GDP.