A MasterCard Visa cross-industry effort to speed up payment security has been launched, the two companies jointly announced. The enhanced payment system security will keep pace with customer expectations, as well as those of retailers and financial institutions, they added.
The two companies will jointly concentrate on the adoption of EMV chip technology in the US, as well as dealing with other security-related issues, including the broader needs of the region, point-to-point encryption and tokenization.
EMV stands for Europay, MasterCard and Visa. It is a worldwide standard for inter-operation of chip cards (integrated circuit cards or IC cards).
US credit card security poor
Many experts find it an enigma that credit card security in the US is so lax. Technology which is widely used in Canada and Europe and many other parts of the world is widely available.
Experts say that cases of credit card fraud and hackers getting into US systems will worsen before they get better. US retailers and financial institutions have lagged behind the rest of the world regarding credit and debit card security.
There is really no need for any rocket-science-type of research and development. The technology is already there and proven to be extremely effective.
Chris McWilton, president of North American Markets, MasterCard, said:
"One of the critical roles we play is to protect consumers and businesses against criminals and fraudsters. Only through industry collaboration and cooperation will we address the real and immediate issue of security and maintain consumer confidence and trust."
"EMV will be the next step in these efforts, alongside enhanced security solutions for online and mobile channels."
MasterCard Visa group will include a broad range of participants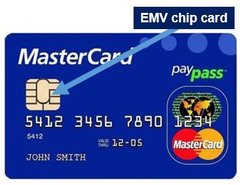 A broad range of participants will be involved in the payment systems of this new group, including all types and sizes of banks, retailers, industry trade groups, point-of-sale device manufacturers, credit unions and acquirers.
The group's formation is a public recognition of how vital it has become for all parties to work together, and will make sure that all voices can contribute to the strategic direction of payment security.
Ryan McInerney, president, Visa Inc., said:
"The recent high-profile breaches have served as a catalyst for much needed collaboration between the retail and financial services industry on the issue of payment security. As we have long said, no one industry or technology can solve the issue of payment system fraud on its own."
"These conversations will serve as a useful forum to share ideas, break down barriers and spur the adoption of next generation security solutions for the benefit of all."
The new group will focus on:
Accelerating migration to EMV in the US. With chip technology, a unique code is generated for each different transaction, making it virtually impossible for criminals to get access to cards and use them fraudulently.
The promotion of further security solutions, including point-to-point encryption and tokenization. While EMV provides security in the physical point of sale, there is still a critical need to protect online and mobile phone transactions. In tokenization the traditional account number is replaced with a unique digital payment code, which provides an extra layer of security.
"Developing an actionable roadmap for securing the future across all segments of the payment industry."
MasterCard Visa expect the new group to become involved in other efforts across the industry, including EMV task forces, proprietary risk councils, and the standard management bodies.