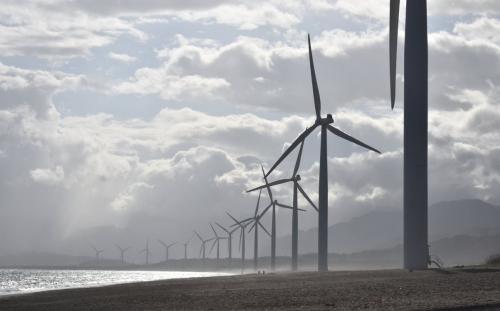 Tufts University announced a new Master's Degree in Offshore Wind Energy Engineering course. It is the first graduate program of its kind in the United States. The three-semester program focuses on structural and geotechnical engineering.
According to Prof. Laurie Baise, Department Chair, the program builds on Tufts' School of Engineering's connections with America's nascent offshore wind energy industry.
Approximately six percent of America's electricity currently comes from wind energy. The Department of Energy expects wind energy to represent 20% of total power generation by 2030.
Prof. Baise said:
"This program is an opportunity to take the lead in shaping a sustainable solution to fossil fuels. Tufts is well positioned to meet that demand by offering a robust and focused program that meets the needs of industry leaders."
The two terms – wind energy and wind power – have the same meaning. In other words, they are interchangeable.
Tufts Wind Energy Masters Degree – research areas
According to Tufts, the Master's Degree covers the following research areas:
Site characterization and permitting
Infrastructure and transmission
Foundation design and monitoring
Program Director at Tufts – Eric Hines
Prof. Eric Hines, Program Director, served as a partner at LeMessurier Consultants before joining Tufts. LeMessurier provides engineering support services to construction firms and architects. He joined Tufts to advocate for the advancement of offshore wind energy education and research.
Prof. Hines said:
"Critical to this enterprise are the integration of engineering with policy and economics, and successful partnerships between universities, industry, and government."
Prof. Hines has been an advisor to the wind energy sector for more than ten years. He has also led the design and construction of some major infrastructure.
Regarding the future of wind energy, Prof. Hines said:
"If wind power is to continue its growth as an energy source, we need not only research and development, but also programs that educate a generation of engineers who are devoted to sustainable development and energy independence. This is a first step toward making climate and energy sustainability a priority."
Wind energy investments
The new Master's Degree Program comes as offshore wind power starts to receive large-scale investments. In December 2018, the Federal Government leased development rights to establish $405 million's worth of find farms off the coast of Massachusetts.
Commercial-scale construction will start in 2019 on a similar-sized Massachusetts lease area. That area was sold for less than $300,000 in 2015.
Prof. Hines said:
"The increase in lease area value by three orders of magnitude in three years exemplifies the inflection point hit by the U.S. offshore wind industry."
According to CNN, if construction of the newly-leased areas were completed today, collectively they would constitute the world's biggest offshore wind farm.
Prof. Hines said that the UK, the Netherlands, and Spain have expressed interest in hiring Tufts graduates.
Did you know that there are more than forty different types of engineering degrees today?
Wind energy
We produced this video which explains what wind energy is. It is aimed at lay people (non-technical people).