May Eurozone manufacturing growth registered its steepest slowdown in six months, according to Markit Eurozone Manufacturing PMI – final data. May Eurozone PMI (Purchasing Managers' Index) slid to 52.2 compared to 53.4 in April.
May's figure does not mean manufacturing has fallen, it means the growth rate has slowed down – any figure above 50 suggests growth.
Manufacturing output throughout the Eurozone, with the exception of the Netherlands, registered slower growth in May compared to April.
Markit ranked the following countries according to Manufacturing PMI in May:
The Netherlands: 53.5, a two-month high.
Italy: 53.2, a two-month low.
Spain: 52.9, a 49-month high.
Germany: 52.3 (flash 52.9), a 7-month low.
Greece: 51.0, a 2-month low.
Austria: 50.9, a 10-month low.
France: 49.6 (flash 49.3), a 4-month low.
ECB expected to act
Most analysts expect that the European Central Bank's (ECB's) Governing Council, which meets on Thursday, will seriously consider taking measures to encourage economic growth and spending.
Last week, ECB President, Mario Draghi, warned that expectations of very low inflation or even deflation could encourage consumers and businesses to postpone purchases. He said the central bank is carefully analyzing data and is considering several measures, including new bank loans, a Fed-like asset buying program, and reducing interest rates (possibly to below zero).
Mr. Draghi said:
"What we need to be particularly watchful for at the moment is the potential for a negative spiral to take hold between low inflation, falling inflation expectations and credit, in particular in stressed countries."
Chris Williamson, Chief Economist at Markit, said:
"The may drop in the manufacturing PMI will inevitably add to the clamor of policymakers to provide a renewed, substantial boost to the region's economy and ward off the threat of deflation. However, the case is not so clear-cut."
Mr. Williamson makes three points:
The May Eurozone manufacturing growth decline still leaves manufacturing growing at a quarterly pace of about 0.5%.
The manufacturing data need to be compared to how the services sector has performed. According to May flash services PMI data, growth is at its fastest rate in nearly three years. Taking manufacturing and services PMI data together, GDP is set to grow by about 0.5% in Q2 2014.
Markit's manufacturing data highlight some strong national performances, especially among previously troubled member states, such as Italy and Spain, where competitive pricing and productivity improvements have helped sales growth. "These gains suggest that long-term structural reforms are helping to lift demand."
Eurozone 'core' countries disappoint
Of more concern, Williamson added, were the disappointing results found in the Eurozone's 'core' countries, especially in France, which he described as "one boat which is not being lifted by rising tide."
The French economy registered growth of 0.0% during the first quarter of 2014, caused by poor business investment and poor consumer spending. The country needs to focus on its competitiveness, Williamson said.
Expansion slowed down in Germany, the Eurozone's largest economy, "possibly linked to some concerns over the situation in Ukraine, or perhaps simple due to timing of Easter," Williamson suggested.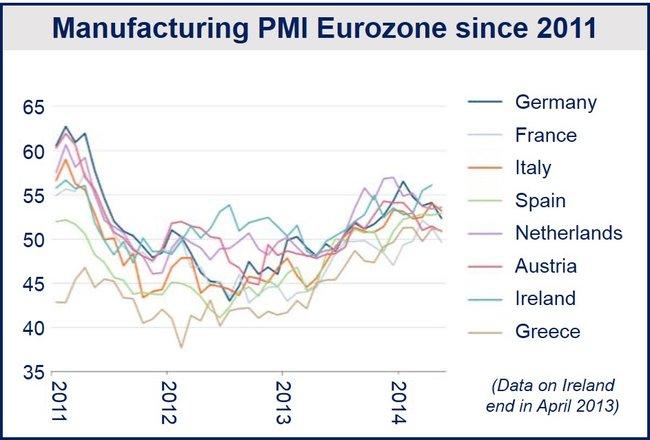 (Source: Markit)
According to The Conference Board, the Eurozone's April LEI (Leading Economic Index) declined by 0.1% compared to March, driven mainly by a falls in the Markit Business Expectations Index (services) and the Economic Sentiment Index.