McDonald's customers in the UK will be able to recharge their smartphone batteries at 50 restaurants across the country wirelessly, i.e. without needing to plug them in.
The fast-food giant and Aircharge have signed a deal which will bring about 600 wireless charging points to fifty outlets. The chargers will be compatible with the most popular Qi standard.
Aircharge made the announcement at CES 2015 in Las Vegas.
McDonald's customers will be able to use the service for free. To recharge your smartphone's battery, you place it on a specially-designed pad. The McDonald's ones will be water-resistant and easy to wipe clean, Aircharge says.
The company has not yet announced which restaurants will be offering wireless recharging.
The launch follows a successful trial with a small number of restaurants. The team running the trial reported that customers were happy to wait up to thirty minutes to have a go on one of the charging mats.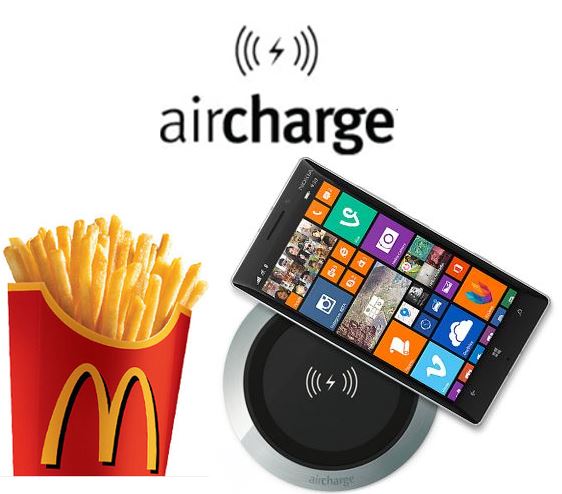 Simply sit down, place your smartphone on the pad, eat your chips and presto … your battery is recharged, no wires!
Qi – The global standard
The idea behind Qi is that devices with the Qi logo will work with all Q1 chargers, without the need for cables, separate chargers or adapters.
Qi is a global standard, which means that a compatible device can be charged wirelessly whenever its owner is at a Qi hotspot.
So far, however, the technology only works on a small number of smartphones, such as the Lumia 930 and Nexus 6.
How many devices are compatible varies, depending on who is giving the information.
According to the Wireless Power Consortium "The number of available Qi products is constantly growing. There are over hundreds of certified products ranging from devices to components." Aircharge, said there are now more than 70 Qi-enabled smartphones on the market.
Qi hotspots are emerging at several locations in the advanced economies. In the United States, Tea Leaf and The Coffee Bean say they will install wireless chargers at their cafes in large cities.
Virgin Atlantic Airways is expected to install some at John F. Kennedy International Airport, New York, and Heathrow Airport, London.
Toyota Motor Corporation says its Lexus NX model will have the Q1 charger installed as an optional extra at some time in 2015.