Applying for a new job? Well, it's natural to be nervous about the outcome. The best you can do is to ensure that you are fully prepared for your meeting. And I'm not just talking about doing research and gathering critical information about the company. No! I mean you also have to look good, neat, and organized. After all, you will be presenting your skills as well as yourself for vetting.
So, what can you do to make a good first impression? That's what you are here to find out. Here are a few simple tips you could use.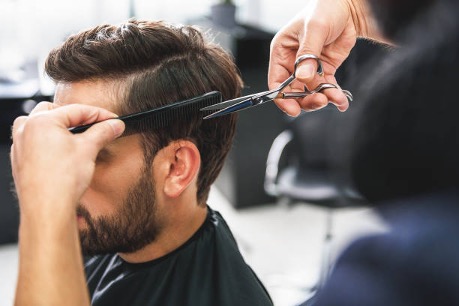 1. First, Ensure Your Hair Looks the Part
Hair is a big part of a person's overall look. You have to make sure your hairstyle is presentable and fit for the job. Luckily, there are numerous styles to choose from. Whether it's a simple shave, a tapered cut, or a neat man bun, the style you choose should represent your personality.
Now, most of the time you can style it yourself at home. And get this. In terms of hairstyle presentation, the finish matters a lot. This has more to do with the styling products used than the style/design of choice.
Nowadays most men use pomades, pastes, waxes, and clays to style their hair. However, for the best results on any hair type and length, experts recommend using hair styling clays. They are usually very easy to use and style with. And if you don't know where to start, check out this best hair clay review.
2. Wear the Right Outfit
Obviously, what you wear says a lot about who you are. Men have fashion too and whatever a man chooses to wear defines him. But you should understand that there is a difference between fashionable dressing and office dress codes.
Fashion is dressing as per the current trends in society. On the other hand, an office dress code is simply how you are expected to dress for such an environment. Therefore, as you decide on what to wear, make sure it aligns with what your interviewer(s) expect. For example, here's what to wear for a financial company interview.
3. Match Your Shoes and Accessories to Your Outfit
Matching your clothes, shoes and accessories is more important than you may think. A good outfit can be ruined easily when paired with the wrong items. For shoes, you can try these combos:
Black, navy blue, charcoal grey, and light grey suits go well with both black and brown shoes.
For cream suits, go for brown shoes.
And pair your casual outfits with sneakers, boots, or even official shoes like monks and oxfords.
Anyway, shoe combination is just one-half of the problem – you should also consider the accessories. Things like watches and belts add detail to the general appearance of an outfit. They complement the final look. However, when accessorizing, ensure that metal watches match metal belts and leather belts match leather shoes. You can also create a very modern look if you add some sneakers like the ones found in Sneakerzone to your look.
4. A Little Fragrance Won't Hurt
Good looks are not the only things that make you presentable. Your body odor also contributes to your overall attractiveness. Plus, it affects the comfort of those around you.
Basically, looking good and smelling bad are two extremes that should never coincide. So, squirt some perfume on yourself before going for the interview. And, to be on the safe side, use lightly scented products.
Remember, looking good is not just about acing your interview; it also builds your confidence and helps to alleviate some of the tension. So, go out there and kill it.
---
Interesting Related Article: "10 Tips for Men's Health"