Dame Millicent Fawcett (1847-1929), the suffragist known for her work as a campaigner for adult women to have the vote, is to be the first female to be honoured with a statue in Parliament Square, British Prime Minister Theresa May has announced.
The Suffragists used peaceful protests and petitions, allowed men to join, were based across the whole country, and attracted middle and working classes citizens. Dame Millicent Fawcett was a suffragist.
The Suffragettes used violence and were radical and militant, set fire to buildings, were London-based, anti-men, and also attracted middle and working classes citizens.
Dame Millicent, who Prime Minister May said "continues to inspire the battle against injustices today," will stand alongside Nelson Mandela and Sir Winston Churchill in Parliament Square.
Dame Millicent campaigned tirelessly for women to be granted the vote on equal terms to men. Her dream came true in 1929 – one year after she died. (Image: uk.ptinterest.com)
Millicent Fawcett- brief biography
Dame Millicent Garrett Fawcett was born in Aldeburgh, a coastal town in the English county of Suffolk, in 1847. She died in London in 1929, one year after women won the vote on equal terms to men.
As a suffragist – as opposed to a suffragette – she took a moderate line in her quest to have the vote granted to women. She was a tireless campaigner.
---
---
She believed that the more militant and violent activities of the Women's Social Political Union (WSPU) – the Suffragettes – were harming women's chances of gaining the vote.
She said that the WSPU's actions were alienating the Members of Parliament (MPs) who were debating whether women should be granted the vote, as well as members of the public generally.
By 1905, Fawcett's NUWSS had nearly 50,000 members and had reached 305 constituent societies.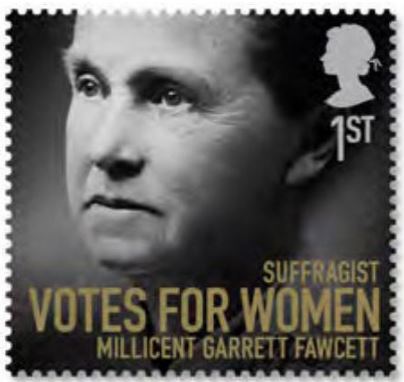 A portrait of Dame Millicent appeared in a 2008 British postage stamp to commemorate International Women's Day. (Image: postalheritage.wordpress.com)
Women & higher education
Much of her energy focused on the struggle to improve higher education opportunities for women. In 1875, Dame Millicent co-founded Newnham College, which today continues to be a women-only constituent college of the University of Cambridge.
From 1897 to 1919, she was President of the National Union of Women's Suffrage Societies (NUWSS).
---
---
In 1901, she led the British government's commission to South Africa to investigate concentration-camp conditions. Her findings corroborated what welfare campaigner Emily Hobhouse (1860-1926) had said about the camps' conditions.
Dame Millicent is considered instrumental in gaining the vote for more than six million British women aged 30+ years in 1918.
Prime Minister May said:
"It is right and proper that she is honoured in Parliament Square alongside former leaders who changed our country. Her statue will stand as a reminder of how politics only has value if it works for everyone in society."
Millicent Fawcett addressing an outdoor meeting in Hyde Park, London, about 1913, as President of the National Union of Women's Suffrage Societies. (Image: english-heritage.org.uk)
Chief Executive of the Fawcett Society, Sam Smethers said:
"We are delighted that Millicent Fawcett, the woman who led the constitutional campaign for votes for women, will finally be honoured. A statue of her in Parliament Square will be a fitting tribute."
"Her contribution was great but she has been overlooked and unrecognised until now. By honouring her we also honour the wider suffrage movement. The Fawcett Society will be using the centenary next year to tell that story in all its diversity."
"None of this would have happened without the campaign that Caroline Criado-Perez launched last year for a suffrage statue in Parliament Square. That campaign won widespread support from J.K. Rowling to the Mayor of London. This statue is also a tribute to her and a testament to what one woman can achieve on behalf of all women."
The Fawcett Society is: "The UK's leading charity campaigning for gender equality and women's rights. We want to see a society in which individuals can fulfill their potential regardless of their sex."
Video – Millicent Fawcett
This two-minute Studies Weekly video talks about who Millicent Fawcett was, what her aims were, and what she achieved and is remembered for.