In early October, US consumer sentiment showed a healthy recovery, suggesting the country's economic rebound continued apace despite weak global demand a strong dollar. However, industrial output declined by 0.2%, driven mainly by weak oil and gas drilling activity.
Stronger consumer sentiment underscored healthy domestic demand, suggesting that consumer spending will continue supporting GDP (gross domestic product) growth, which in recent months has slowed considerably.
The University of Michigan's 'Surveys of Consumers' posted a consumer sentiment index of 92.1 in early October, compared to 87.2 in September. Its Current Economic Conditions Index rose to 106.7 in October versus 101.2 in September.
Source: Surveys of Consumers, University of Michigan. Preliminary Results for October 2015.
The Index' current level, when seen historically, is consistent with an approximately 4% annualized rate of consumer spending growth.
Michigan University researchers wrote:
"The rebound in confidence signifies that consumers have concluded that the fears expressed on Wall Street did not extend to Main Street. Importantly, the renewed confidence did not simply represent a relief rally, but instead reflected renewed optimism."
Main Street, in this context, refers to the average American rather than big corporations and rich individuals.
Personal financial expectations increased to their highest level in eight years, as did consumers' views regarding the purchase of durable goods.
The researchers added:
"Perhaps the most important finding is that low inflation and continued job growth have enabled consumers to adapt to a slower and more variable rate of economic growth by varying the pace of their spending without losing confidence that the expansion will continue. Overall, the data still indicate that consumption will expand at 2.9% during 2016."
In an interview with Reuters, Millan Mulraine, deputy chief economist at TD Securities in New York, said:
"This suggests that U.S. household sentiment has turned an important corner, and is a hopeful sign on the outlook for consumer spending activity going forward, given signs of weakness in other parts of the economy."
On Friday, US stocks traded higher, while US Treasuries' prices were mostly weaker. The dollar rose against most other currencies.
Industrial production disappoints
The US Federal Reserve reported that industrial production fell by 0.2% in September, compared to a 0.1% decline in August. It rose by an annual rate of 1.8% in the third quarter.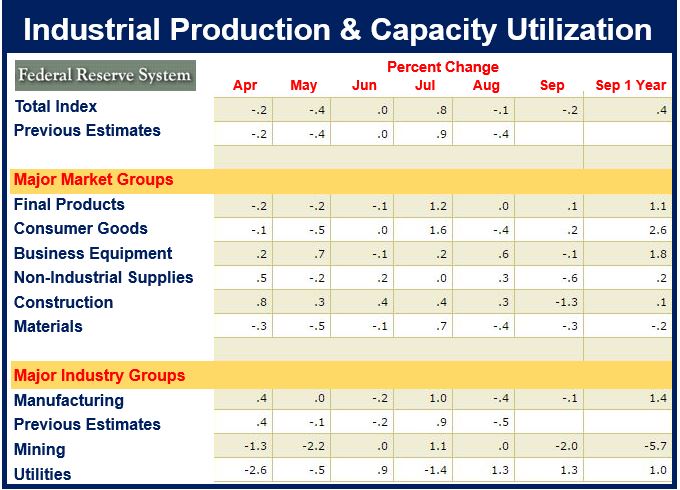 Source: Industrial Production and Capacity Utilization – G.17. US Federal Reserve System.
Manufacturing output in September fell by 0.1%, declining for the second successive month. The index for mining was 2% down, while that for utilities increased by 1.3%. Manufacturing output was 2.5% in September compared to September 2014.
Capacity utilization for the industrial sector declined 0.3 of a percentage point in September to 77.5%, a rate that is 2.6 percentage points below its long-term (1972–2014) average.
Manufacturing makes up about 12% of US GDP. Even so, the disappointing industrial production figure added to soft trade, employment and retail sales data that suggest the economy is growing at a much slower pace after expanding by 3.9% (annually) in Q2.