Mortgages plummet while consumer credit soars in the post-Brexit madness that is the UK environment at the moment. Since the 23rd June Referendum, in which 52% of electors voted for Brexit – Britain Exiting the European Union – economic indicators have gone in all directions.
While consumer credit has soared, new mortgages have tumbled, airlines have suffered, exports have boomed, the pound has fallen, GDP (gross domestic product) growth did not reverse as many had predicted, manufacturing has picked up, and even construction has showed strong gains.
The number of individuals taking out mortgages declined to its lowest levels for nineteen months in August, the UK's high street banks report. Their figures to not include mortgages from building societies, which account for about one third of the total.
While growth in total new mortgages fell in August, loan and overdraft borrowing rose. Total credit card borrowing also declined. (Image: British Bankers Association)
However, as high street banks and building societies tend to follow parallel mortgage figures, it is likely the whole sector experienced a significant dip last month.
The British Bankers Association (BBA) reported that there were 36,997 mortgage approvals in August. The total has not been so low since January 2015, and is twenty-one percent below the total in August 2015.
---
---
Mortgages flat since April
Since April this year, when there was a rush to beat stamp duty changes, the number of mortgage applications has been flat.
Dr. Rebecca Harding, the BBA's Chief Economist, said:
"Mortgage borrowing is growing at a slower pace than it has for the last few months reflecting both the slowdown in housing market growth after the April spike and broader trends in the sector."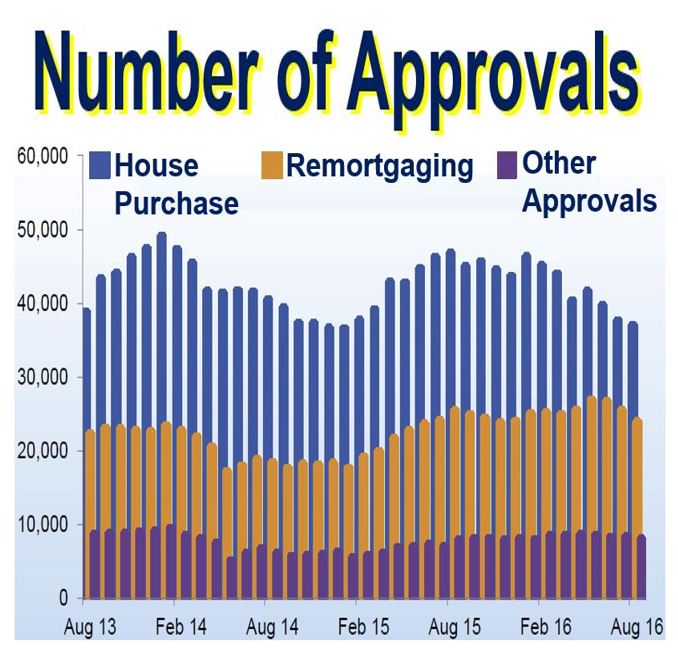 All loans related to properties – including house purchases, remortgaging and other advances – declined in August. (Image: British Bankers Association)
Gross mortgage borrowing of £12.4bn in August 2016 was 1% higher than in August 2015. Net mortgage borrowing is marginally under 3% higher than a year ago. Gross mortgage borrowing refers to all property-related lending – all new loans for house purchase. Net mortgage borrowing is the same minus repayments, redemptions and loan losses.
Remortgaging approvals in August 2016 were 6% lower than in the same month last year. However, in the first eight months of this year, they were 16% higher than in the equivalent period of 2015.
---
---
Consumer credit soars
Consumers, on the other hand, carry on borrowing more and more through either overdrafts or loans.
Total consumer credit increased by 6.4% in the year to August 2016, which is the fastest rate for a decade.
Economists say that consumer sentiment remains surprisingly strong following June's Brexit vote. The low interest rate environment – the Bank of England cut interest rates during the summer – has clearly helped encourage greater borrowing.
Regarding consumer credit and sentiment, Dr. Harding said:
"Given the low interest rate environment and high levels of confidence during the summer, the strong credit growth can be interpreted as strong consumer sentiment."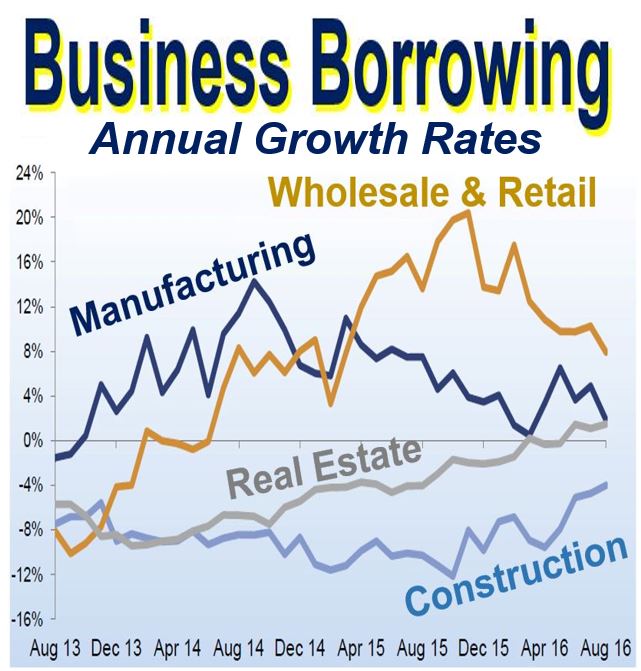 In August 2016, real estate and construction saw borrowing increase, while in wholesale & retail and manufacturing it fell. (Image: British Bankers Association)
BBC News quoted Howard Archer, Chief European and UK Economist at IHS Global Insight, who said:
"Consumers were clearly prepared to continue borrowing and spending in August, and it is notable that confidence recovered to a significant extent after slumping in July in the immediate aftermath of the Brexit vote."
Mr. Archer does not believe the current high level of consumer confidence will last. He predicts that in the months to come it will run out of steam.
Mr. Archer added:
"Consumers are likely to face diminishing purchasing power over the coming months as inflation rises and earnings growth is limited by companies striving to limit their costs."
He believes inflation will reach 3% by the end of this year, which is one percentage point higher than the Bank of England's target. He also forecasts rising unemployment.
The big question nobody can answer at the moment is: Will strong consumer sentiment spread to individuals considering buying a property and lead to a growth in mortgages, or will the reticence felt by those in the housing market spread and undermine consumer credit?
While personal deposits fell over the past couple of months, those of PNFCs (private non-financial companies) increased overall. (British Bankers Association)
Business credit
The BBA also reported that company deposits increased at an annual rate of 3.8% in August this year compared to 9% in the same month last year. This suggests that businesses may be using their own internal sources to fund growth and working capital requirements.
Borrowing by non-financial businesses fell by £0.1bn in August 2016, after a relatively strong increase in July.
Net capital market issues by non-financial companies declined by £1.1bn last month. However, during the first eight months of 2016, a total of £10 bn (net) was raised. This alternative finance compares with a rise in bank borrowing of £6.8bn (net) in the year to August.
Video – Will Brexit hurt UK or Europe more?
In this Financial Times video, Mathias Döpfner, Chief Executive of Axel Springer, one of Europe's largest media companies, says he believes Brexit will hurt the rest of Europe more than Britain. He believes that the UK outside of the EU may prove 'highly attractive' for foreign investors.