You have one week to reverse your course in Ukraine, or there will be new EU Russian sanctions, the European Union told Vladimir Putin. According to Herman Van Rompuy, the European Council President, EU members are currently discussing a list of further economic sanctions.
Ukraine's President, Petro Poroshenko says his country is facing the prospect of "full scale war" against Russia. He added that his nation was worryingly "close to a point of no return."
The European Union (EU) says Russian forces have crossed into Ukraine illegally to support separatists within the country, something Russia vehemently denies. Russia only admits that a number of of its citizens who support the rebels' cause have crossed the border as volunteers.
Pro-Russian separatists have gained territory against Ukrainian troops during the last few days in the Luhansk and eastern Donetsk regions. According to media sources with people in the area, about 2,600 people have died in the fighting.
The United States, the European Union and other allies say there is compelling evidence that there are regular Russian military units with heavy weapons operating within Ukraine (see video at the bottom of the page).
Leaders' comments
Germany: Chancellor Angela Merkel said that if Russia does not change course there will be new EU Russian sanctions. She emphasized that a military solution to the conflict is out of the question.
France: President François Hollande warned about the risks of allowing the situation to get worse, which significantly raises the risk of war. Regarding the risk of war, he said "That's the risk today. There is no time to waste."
United Kingdom: Prime Minister David Cameron said "(the EU faces) a completely unacceptable situation of having Russian troops on Ukrainian soil. Consequences must follow if that situation continues."
Diplomatic sources told The Telegraph that Mr. Cameron has pledged to use the City of London's financial services dominance to make sure the Russian economy is cut off from access to cash.
The United Kingdom is pushing for Russia to be blocked from the SWIFT banking transaction system, one of its main connections to the global financial system.
Lithuania: President Dalia Grybauskaite fears the situation is much worse than most of her peers across the continent realize. President Grybauskaite said "(Russia is) practically in a war against Europe. We need to support Ukraine, and send military materials to help Ukraine defend itself. Today Ukraine is fighting a war on behalf of all Europe."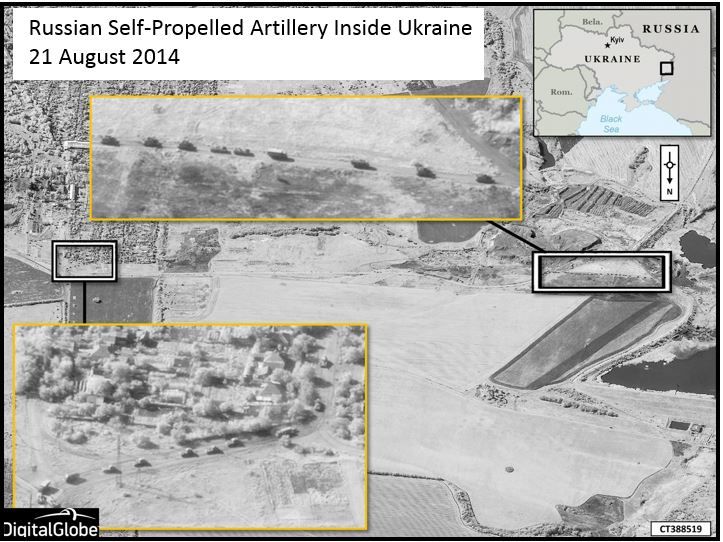 A convoy of military units with self-propelled artillery from Russia in the separatist-held Ukrainian are of Krasnodon. The image was captured on August 21, 2014. NATO is confident the equipment is Russian, given that Ukrainian units are not present in this separatist-controlled territory. (Photo source: NATO)
United States: White House National Security spokesperson, Caitlin Hayden welcomed the EU's move. Ms. Caitlin said "We are working closely with the EU and other partners to hold Russia accountable for its illegal actions in Ukraine, including through additional economic sanctions.  We remain committed to supporting Ukraine as it seeks a diplomatic resolution to the crisis and call on Russia to immediately remove its military, including troops and equipment, from Ukraine and end its illicit support to the separatists."
The European Union: in a joint statement, the EU said "(the EU) stands ready to take significant further steps in light of the situation on the ground." It has instructed the European Commission to present an option to impose sanctions on every single individual and institution that has been dealing with rebel groups in eastern Ukraine.
NATO: NATO Secretary General Anders Fogh Rasmussen says it is now clearly evident that Russian troops and military equipment have crossed the border into eastern and south-eastern Ukraine illegally, despite what he describes as Russia's hollow denials.
Mr. Rasmussen said:
"Russian forces are engaged in direct military operations inside Ukraine. Russia continues to supply the separatists with tanks, armoured vehicles, artillery and rocket launchers. Russia has fired on Ukraine from both Russian territory and within Ukraine itself. Moreover, Russia continues to maintain thousands of combat-ready troops close to Ukraine's borders. This is a blatant violation of Ukraine's sovereignty and territorial integrity. It defies all diplomatic efforts for a peaceful solution."
"Today, we expressed strong solidarity with Ukraine. At the Wales Summit next week, we will meet President Poroshenko to make clear NATO's unwavering support for Ukraine."
Sanctions, the economy, hope..

New sanctions against Russia will further fuel already heightened tensions between Moscow and Brussels, and will most likely lead to tit-for-tat measures from Russia.
Two weeks ago, Russia imposed a ban on the importation of a range of agricultural products and foods from the European Union in retaliation to existing sanctions. The EU has a compensation plan for affected farmers.
Several lobby groups have warned that Russian sanctions may harm the EU's economy, which is only just managing to recover from a long financial and debt crisis. Germany, the economic powerhouse of the Eurozone, posted a GDP contraction in the second quarter.
Only a few days ago, EU leaders had been hopeful that after the Brussels-brokered talks in Minsk between Vladimir Putin and Petro Poroshenko on Tuesday, there might be a solution to the crisis.
When reports that hundreds of Russian troops had crossed the border into Ukraine emerged, any signs of hope were rapidly extinguished.
Sanctions not an end in themselves
President of the European Commission, José Barroso, reminded leaders that sanctions are not an end in themselves. They are instruments to show to the Russian leadership that in today's world the current behavior is not acceptable.
Mr Barroso said:
"We urge them (Russian leadership) to come to reason, and to work constructively with the European Union and of course also with Ukraine. Frankly it makes no sense to have this kind of conflict or kind of new Cold War. I made this point extremely clearly once again to President Putin just yesterday."
"The contrast is too strong between the repeated commitments to political dialogue and the dramatic reality on the ground. There can be no military solution to this crisis. It's time for everyone to get down to the business of peace-making. It is not too late, but time is quickly running out."
Video – NATO images showing Russian troops in Ukraine
In this NATO video, Dutch Brigadier General Nico Tak, director of the Comprehensive Crisis and Operations Management Centre, Allied Command Operations, talks about new satellite images (August 28) showing Russian combat forces engaged in military operations within Ukraine territory.
The Brigadier General says images show Russian self-propelled artillery units moving in a convoy across the Ukrainian countryside and then getting into firing positions in the Krasnodon area.
What are Sanctions?