The Lewisham and Greenwich NHS Choir beat main rival Justin Bieber to number one spot in the festive charts. Justin Bieber, the Canadian singer and songwriter, threw his support behind the NHS Choir, which is raising money for charity. The Canadian's two songs – Love Yourself and Sorry – took the second and third spot respectively.
The NHS Choir's track – A Bridge Over You – a mash-up of songs by American folk rock duo Simon and Garfunkel and British rock band Coldplay, sold over 127,000 when it reached the top of the hit parade.
The single, released in aid of Mind, Carers UK and other health charities, ended the day with more than thirty-thousand sales ahead of Bieber's Love Yourself, with sales of nearly 97,000.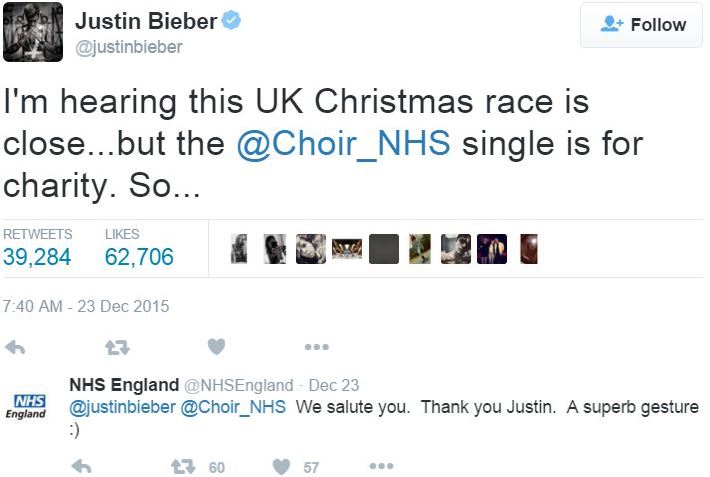 The NHS Choir thanks Justin Bieber for his generous gesture. (Image: twitter.com/justinbieber)
Three Bieber songs in top five
The Canadian superstar, who already has three singles among the top five this Christmas, looked on course to win top stop with Love Yourself, but told his fans to support the NHS Choir's campaign, given that it was in aid of charity, in an amazing act of Christmas kindness.
---
---
Earlier this week, Bieber tweeted to his seventy-two million followers:
"I'm hearing this UK Christmas race is close, but the NHS Choir single is for charity. So for one week it's OK not to be number one. Let's do the right thing and help them win. It's Christmas. This is what it's all about. Merry Christmas."
One of the co-organisers of the NHS Choir's campaign, Joe Blunden, said:
"It's an historic day for the NHS. It's a day that the country has shown just how much they love their NHS. About a quarter of the choir are working today. It's great to think of them listening to their number one on the radio while they work."
NHS choristers expressing their delight at reaching the number 1 spot in the UK festive charts. (Image: twitter.com/NHSEngland)
Closest chart battle in six years
The Official UK Charts Company said this one was the closest festive chart battle since 2009, when Rage Against The Machine's beat The X Factor's Joe McElderry "but the Lewisham & Greenwich NHS Choir today claim the coveted yuletide chart crown with their charity single A Bridge Over You."
Despite being in the lead at the start of the chart week by about 5,000 copies, the NHS Choir's early lead narrowed after two days to slightly more than 2,000. By Monday (third day) Justin Bieber pulled ahead.
By Tuesday, Bieber's lead extended to 7,000 chart sales, after which the gap narrowed overnight to a nail-biting 662 copies by Wednesday morning.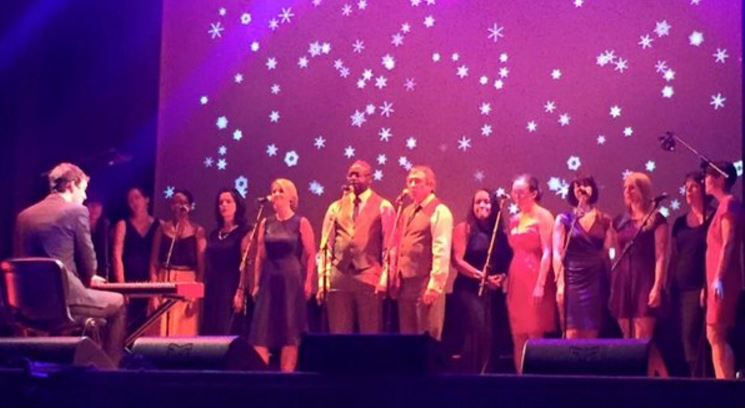 The Lewisham and Greenwich NHS Choir singing their Christmas single 'A Bridge of You'. (Image: twitter.com/Choir_NHS)
After Bieber tweeted to his fans to support his NHS rivals, whose campaign supports the hard work done by nurses, doctors, midwives and all other health NHS workers, the Choir pulled ahead and won the number 1 spot.
Mr. Blunden said of Bieber's action:
"Justin Bieber has put a smile on a lot of people's faces. He has made our campaign global. So we have to send him a massive 'thank you'."
Martin Talbot, CEO of the Official Charts Company, said:
"What a fantastic result for the NHS Choir. There will be thousands of NHS staff across the country working through Christmas Day, while the rest of the nation is putting its feet up – this success is for them. There couldn't be a more deserving group of winners."
"Bieber saying what he said has had a substantial impact on the campaign, it gave them a huge boost. To reach 72 million people in one go was really helpful. It has brought attention to the campaign in a way that they wouldn't have got otherwise."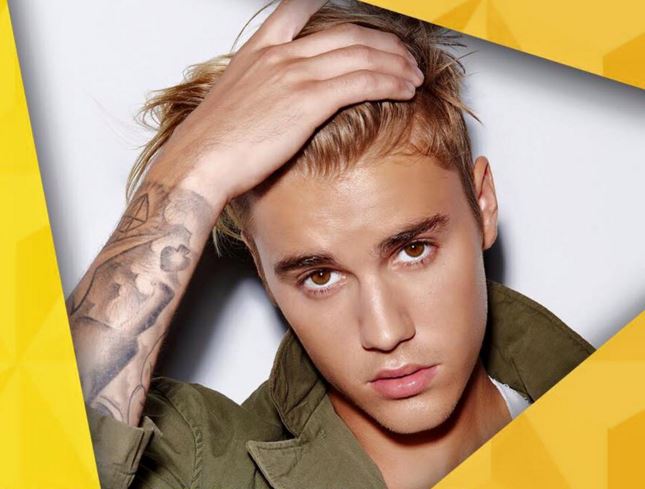 Singer/Songwriter Justin Drew Bieber was born in 1994 in London, Ontario, Canada. (Image: facebook.com/JustinBieber)
The Official Singles Top 25 Christmas Chart:
1. A Bridge Over You – Lewisham & Greenwich NHS Choir.
2. Love Yourself – Justin Bieber.
3. Sorry – Justin Bieber.
4. Hello – Adele.
5. What Do You Mean – Justin Bieber.
6. You Don't Own Me – Grace FT G-Eazy.
7. Sweet Lovin' – Sigala FT Bryn Christopher.
8. History – One Direction.
9. Shut Up – Stormzy
10. Adventure of a Lifetime – Coldplay.
11. All I Want For Christmas Is You – Mariah Carey.
12. Forever Young – Louisa Johnson.
13. Fairytale Of New York – Pogues Ft Kirsty Maccoll.
14. Sax – Fleur East
15. Girl Is Mine (Destiny's Child & Brandy) – 99 Souls.
16. Never Forget You – Mnek & Zara Larsson.
17. IN2 – WSTRN.
18. Last Christmas – Wham.
19. Take Me Home – Jess Glynne.
20. Love Me Like You – Little Mix.
21. The Hills – Weeknd.
22. Perfect – One Direction.
23. Hotline Bling – Drake.
24. Can't Feel My Face – Weeknd.
25. Stitches – Shawn Mendes.
Click here to view the full top 100.
Video – NHS Choir's 'Bridge Over You'