A no-deal Brexit would be disastrous, says Steven Armstrong, President of Ford Europe, Middle East, and Africa. The disaster would be for British industry. A no-deal Brexit would also affect Ford's future in Britain, he added.
Mr. Armstrong told BBC News that he was 'still confident' that there will be a tariff-free frictionless trade deal.
However, he added that a no-deal Brexit would force his company to think about its future investment strategy. Specifically, its future investment strategy for the UK.
BREXIT stands for BRitain EXITing the European Union. In June 2016, Britons voted in a referendum for Brexit. It was a very narrow vote – 51.9% for Brexit and 48.1% in favour of remaining.
EU-Canada style deal would not work
There has been a lot of talk of an EU-Canada style deal for the UK. However, Mr. Armstrong said that for Ford, such a deal would not work.
A Canada-EU style deal would still involve border checks. Ford operates a just-in-time delivery model. This means that the company keeps stock levels at an absolute minimum. As orders come in, suppliers are contacted to make deliveries of raw materials and components immediately.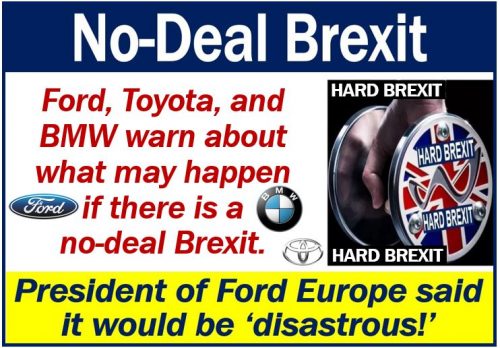 If there are border checks, goods, components, and raw materials will not get to their destinations fast enough.
Ford makes gearboxes in Halewood on Merseyside and engines in Dagenham and Bridgend. When orders come in from different parts of the EU, they need to get to their destinations quickly.
If engines and gearboxes take longer to cross UK borders, the country will become less competitive. If the UK became less competitive "it would certainly make us think long and hard about our future investment strategy," said Mr. Armstrong.
Toyota's no-deal Brexit warning
Last month, Toyota warned that a no-deal Brexit would disrupt production of its factories in the UK. The Japanese carmaker said the disruption would last weeks and even months.
If checks at Dover and Calais slow down delivery times, there could be temporary stoppages, Toyota warned.
Marvin Cooke, the managing director of Toyota's plant in Burnaston, said:
"My view is that if Britain crashes out of the EU at the end of March, we will see production stops in our factory."
BMW's no-deal Brexit statement
In September, German carmaker BMW said it would close its Mini plant for a month after Brexit in March 2019. It said it would do this to minimise disruption in case there is a no-deal Brexit.
BBC News quoted BMW as saying:
"While we believe this worst-case scenario is an unlikely outcome, we have to plan for it."