The £1 billion London underground Northern Line extension to Battersea has been approved by Transport Secretary Patrick McLoughlin. The extension will serve two new stations and contribute towards the massive development scheme along the Thames.
Underground (subway) journeys from Battersea to the City of London and the West End will be reduced to less than 15 minutes.
The line, from Battersea to Kennington via Nine Elms, is estimated to cost £1 billion, with the Ferrovial Agroman Laing O'Rourke joint venture getting £500 million of the contract.
One new station will be built at the Battersea Power Station redevelopment. The other one will be at Nine Elms to the east, where the new US Embassy and the New Covent Garden Market are being built.
Ravi Govindia, head of Wandsworth Council, said:
"This is fantastic news for the people of Battersea and the benefits will be felt right across London. This part of the capital is already coming to life with thousands of new homes and jobs. Its two new Tube stations will turbocharge the process."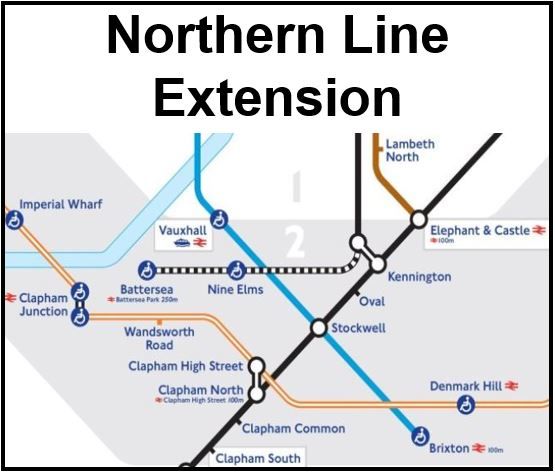 (Source: "Northern Line Extension", Transport for London)
Mr. Govindia said he will continue pushing for a further extension connecting the Northern Line to Crossrail 2 at Clapham Junction.
Ferrovial Agroman and Laing O'Rourke said construction work will begin in the second quarter of 2015. The three-mile stretch of new tunnels plus the new stations will be completed by 2020.
All the funding will come from businesses and organizations that will benefit from the extension.
The Mayor of London and the UK Government have agreed on a funding package that includes the creation of an Enterprise Zone from 2016 for a period of 25 years. A funding package will be put forward by the Greater London Authority shortly for the £1 billion project.
Boris Johnson, the Mayor of London, said:
"I am delighted we can confirm that early next year the spades will be hitting the ground for the creation of the Northern line extension. Driven by improved transport links this part of central London is set to move forward a century in a matter of a few years, supporting 24,000 new jobs and more than 18,000 new homes. The benefits of major infrastructure projects such as this are enormous – cutting journey times for passengers, supporting London's future growth and creating jobs right across the UK."
Managing Director of London Underground, Mike Brown MVO, said:
"This vital new part of the Underground network will support and enable growth in an area that is rapidly developing. By 2020 we will have created over three miles of new tunnels and two brand new stations that will transform transport links to the area."