Online casinos provide the US government with billions of dollars in tax revenue each year. It is a dynamic job creator and a powerful economic engine. The whole gaming industry, online and offline, employs nearly two million Americans.
According to a report by the American Gaming Association (AGA):
The industry supports almost 1.8 million jobs across the United States.
Casinos and gaming, in general, contribute $261 billion to the US economy. Since 2014, the monetary contribution has grown by 9.5%.
Tax revenues to local, state, and federal governments from gambling and betting reached $40.8 billion in 2017.
In 2017 in Nevada, gambling tax receipts were once again higher than they had been before the Global Financial Crisis of 2007/8.
Illegal and legal online casinos
Bonusseeker, a US gaming guide for many legal online casinos that exist today, says tax revenue from gambling would be much greater globally if the illegal online casinos became part of the formal economy. In other words, if they played by the rules.
It is difficult to know how many online casinos form part of the shadow economy. The shadow economy or informal sector is part of the economy where all activities are done 'below the radar.' In other words, businesses and individuals that do not declare their incomes and pay no taxes.
Governments are forever trying to shut down illegal operations.
In China, for example, in April 2018, the authorities broke up a major illegal online gambling ring. They arrested more than 200 suspects in two major operations.
The police in Guangdong province froze bank accounts containing RMB85 million (US$13.4 million). They also seized property worth RMB130 million.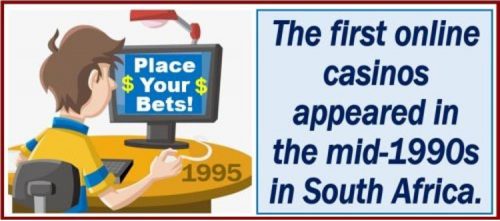 Is online gambling allowed in the USA?
In the US, the legality of online gambling varies from one state to another. The UIGEA (Unlawful Internet Gambling Enforcement Act of 2006) limits the ability of financial institutions (banks) and payment processors to transact with internet gambling websites that are illegal under any state or federal law.
In other words, banks cannot process the transactions of, for example, illegal online casinos. However, UIGEA does not define the legality or non-legality of an Internet-based gambling website.
Many people had assumed that the Federal Wire Act banned all forms of gambling online. In December 2011, however, the US Justice Department stated that the Act applied just to certain types of sports betting sites. It did not apply to lottery, poker, and casino websites.
Some states, such as New Jersey, Delaware, and Nevada, have begun the process of regulating online gambling. Other states will probably also start doing the same soon.