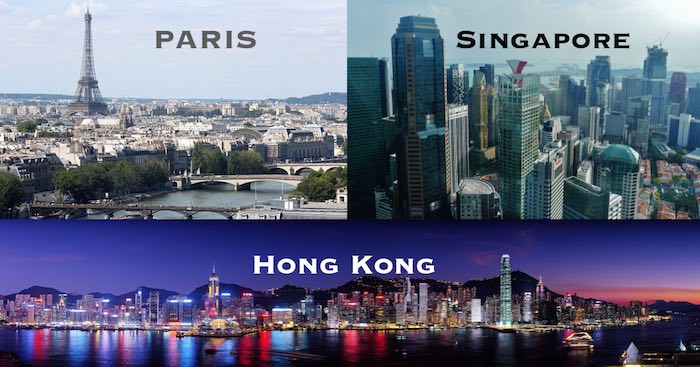 Paris, Singapore and Hong Kong are the three most expensive cities in the world, according to the Economist Intelligence Unit's 2019 Worldwide Cost of Living Survey.
It is the first time three cities have shared the title of cities with the world's highest cost of living.
The top ten most expensive cities in the world are:
1. Singapore (Singapore)
1. Paris (France)
1. Hong Kong (China)
4. Zurich (Switzerland)
5. Geneva (Switzerland)
5. Osaka (Japan)
7. Seoul (South Korea)
7. Copenhagen (Denmark)
7. New York(US)
10. Tel Aviv (Israel)
10. Los Angeles (US)
Paris, which ranked as the second most expensive city last year, is the only city in the eurozone to make it in the top 10. The French capital has been among the top 10 most expensive cities in the world since 2003, with "only alcohol, transport and tobacco offering value for money compared with other European cities."
Report author Roxana Slavcheva said: "European cities tend to have the highest costs in the household, personal care, recreation and entertainment categories-with Paris being a good representative in these categories—perhaps reflecting a greater premium on discretionary spending."
Singapore is the only city in the top ten that kept its ranking from the previous year.
Hong Kong jumped three positions from last year, while New York rose six spots to become the joint seventh most expensive city with Copenhagen.
Western Europe accounts for three of the five most expensive cities and for four of the top ten. Asia accounts for a further four cities, while Tel Aviv is the only city in the Middle Eastern to make it in the top ten.
The ten cheapest cities in the world are:
1. Caracas (Venezuela)
2. Damascus (Syria)
3. Tashkent (Uzbekistan)
4. Almaty (Kazakhstan)
5. Bangalore (India)
6. Karachi (Pakistan)
6. Lagos (Nigeria)
7. Buenos Aires (Argentina)
7. Chennai (India)
8. New Delhi (India)
Five years ago, London was the world's most expensive city. Since the Brexit referendum, the value of the pound sterling has declined against other major currencies.