An engineless glider soared to a record altitude of 52,172ft (15.9km) in the skies above the Patagonia region of Argentina.
Chief pilot Jim Payne and co-pilot Morgan Sandercock achieved the historic Perlan 2 flight from Comandante Armando Tola International Airport in El Calafate, Argentina.
The glider's two pilots managed to surpass the previous record set in 2006 by 3%.
The fibre-based aircraft was able to reach such a high altitude with the help of polar winds.
It stayed airborne for approximately six hours and 25 minutes.
The pressurised aircraft weighs 1,800 pounds, which is about the same weight as the first VW Beetle car.
With an empty weight of 1,100 pounds, and a wing area of 262 square feet, the 84-foot span glider is incredibly light for the structural strength required for stratospheric flight.
The glider is equipped with dual-redundant oxygen rebreathers, a drogue parachute for rapid descent in the unlikely emergency, and a ballistic chute for a lower-altitude emergency descent.
Glider info:
| | |
| --- | --- |
| Crew | 2 |
| Cabin Pressure | 8.5 PSID |
| Empty Weight | 1265 lbs |
| Gross Weight | 1800 lbs |
| Wing Span | 84 ft |
| Wing Area | 263 sq ft |
| Aspect Ratio | 27 |
| Wing Incidence | 1.5 ° |
| Horiz. Tail Incidence | -0.5 ° |
It was not only the Perlan 2's longest flight, but also the coldest with temperatures dropping to as low as -68C (-90F).
"We are celebrating an amazing victory for aerospace innovation and scientific discovery today, and we're so thankful to all the volunteers and sponsors whose years of tireless dedication have made this achievement possible," said Ed Warnock, CEO of The Perlan Project.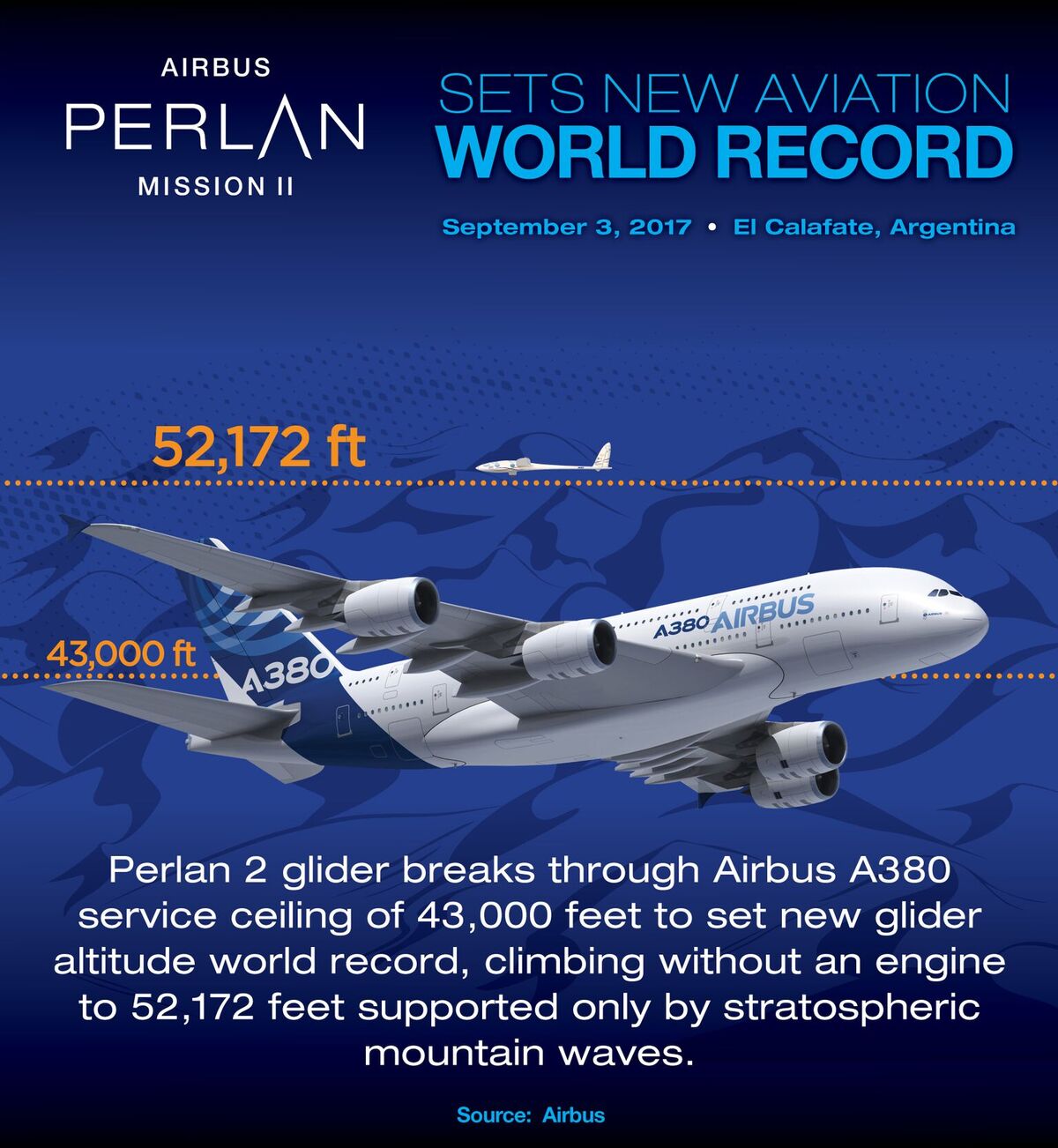 "We will continue to strive for even higher altitudes, and to continue our scientific experiments to explore the mysteries of the stratosphere. We've made history, but the learning has just begun."
A blog post by the Perlan Project team describing the event said:
"The maximum **GPS altitude was 52,172 feet which was about 1,000 feet above the necessary altitude for a new record. Flight #38 was the longest (6.6 hours), coldest, and highest that Perlan 2 has flown."
** GPS (Global Positioning System) is a network of satellites which we use to locate the exact position of airplanes, vehicles, ships, etc.
---
The Airbus Perlan Mission II is an initiative to fly an engineless glider to the edge of space, higher than any other winged aircraft has operated in level, controlled flight, "to open up a world of new discoveries related to high-altitude flight, climate change and space exploration."