The UK's 'big four' supermarkets, Tesco, Morrisons, Sainsbury's and Asda said they are welcoming the New Year with 2p per litre cuts in the price of petrol (gasoline). Diesel prices have also come down.
Vehicle fuel prices have declined several times since September 2014.
According to the Automobile Association, supermarkets were responding to fierce competition and a decline in the prices of wholesale fuel prices.
Since September, each major supermarket has cut petrol prices by between 11 and 14 times.
The Automobile Association (AA) said in a statement:
"Asda, followed by Morrisons, have announced they will knock 2p a litre off petrol and diesel from Thursday (1 January)."
"These welcome price cuts will eventually filter down in some form to other retailers, so the UK average price will fall further as we enter 2015, but just how far is anyone's bet. Current indications are that the magical £1-per-litre average price across the UK is still looking unlikely in the short term."
Since September 2014, the price of petrol has fallen by (average) 19p and diesel by 15p per litre.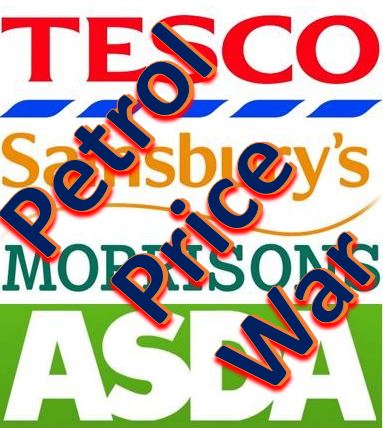 The big four are now expanding their price war to the forecourt.
For the average British car owner, these declines equate to a monthly saving of over £20 for unleaded vehicles and about £13 for diesel.
The AA's December 2014 Fuel Price Report informed that the fierce price battle between some independent retailers and supermarkets has produced the biggest monthly decline in petrol prices during the past 25 years. Average prices are back to autumn 2010 levels.
If petrol prices do manage to break the £1 per litre mark, it will be the first time since May 2009.
The decline follows a steep fall in the global price of oil that started at the end of June 2014, caused by a slowdown in several economies, including China and the Eurozone, as well as a surplus in supply brought about rising production in the United States and the Middle East.
The price of Brent Crude, seen as the worldwide benchmark, plummeted by nearly 50% in 2014. On Wednesday it slid to nearly $56 per barrel.
British motorist groups have criticized oil companies and retailers for not passing on enough of the oil price decline to consumers.
On December 17th, the RAC said in a statement:
"There is a very good chance forecourt prices will continue to fall as the price of a barrel of crude goes lower which the RAC is hopeful will lead to petrol being sold nationally for under £1 a litre in the first few months of the new year."