The largest drugmaker in the world, Pfizer, has abandoned its AstraZeneca takeover bid "Following the AstraZeneca board's rejection" of the £55 a share proposal. Pfizer added that it has no intention of making further offers. It had until Monday May 26th to keep the Pfizer AstraZeneca takeover bid alive.
Ian Read, Pfizer's Chairman and CEO, made the following announcement:
"We continue to believe that our final proposal was compelling and represented full value for AstraZeneca based on the information that was available to us. As we said from the start, the pursuit of this transaction was a potential enhancement to our existing strategy."
"We will continue our focus on the execution of our plans, bringing forth new treatments to meet patients' needs and remaining responsible stewards of our shareholders' capital."
AstraZeneca (AZ) Chairman, Leif Johansson (who is also Chairman of Ericsson), said his company will build on the momentum it has already demonstrated as a go-it-alone company. AZ has attractive growth prospects and a pipeline of new products that is "rapidly progressing", he added.
In a statement, Mr. Johansson wrote: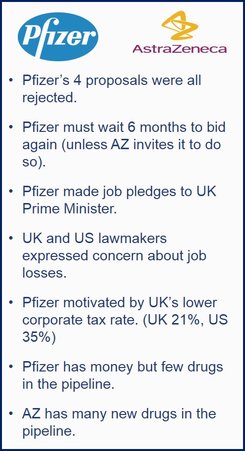 "AstraZeneca has a culture of innovation, with science at the heart of everything we do. I believe this will create significant value for our shareholders, employees and patients who will benefit from our life-changing medicines."
It all started in January, 2014
AstraZeneca has fiercely held off Pfizer acquisition attempts since January 5th, 2014, when the US drugmaker came in with a bid worth £58.8 billion, which was rejected. Pfizer had offered a combination of shares and cash, consisting of £46.61 ($76.62) for each share and a premium payment amounting to approximately 30% of AZ's closing share price (£35.86) on January 3rd.
In April, The Sunday Times reported that some merchant bankers who had asked not to be named knew about a second acquisition bid. Pfizer then confirmed it had approached AZ again on April 26th.
AstraZeneca rejected the second offer, saying that it significantly undervalued its true worth. It added that it could add "significant value" to shareholders without any outside help. "The Board remains confident in the ongoing execution of AstraZeneca's strategy as an independent company," AZ announced.
Eventually, Pfizer made its "final" offer of £55 per share, valuing AZ at £69 million ($116 billion). Pfizer said it could not go any higher and stressed that it would not bypass the AZ board and make a direct approach to shareholders (no hostile takeover).
AstraZeneca rejected the final offer, describing it as "inadequate", and added that it had a better future on its own.
Pfizer had to face British lawmakers
On May 13th, Pfizer's CEO Ian Read, AZ's CEO Pascal Soriot and lawmaker Vince Cable, UK's Business Secretary had to face a parliamentary Business, Innovation and Skills Committee.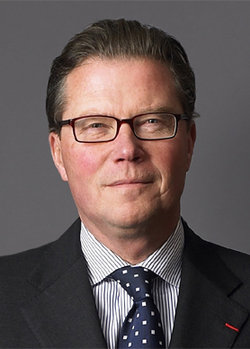 When asked by British lawmakers about Pfizer's history of buying companies and then stripping down their R&D divisions and making thousands of people redundant, Mr. Read said his company had acted with integrity and its reputation regarding jobs and investments were based on a misunderstanding.
Mr. Read eventually admitted that after acquiring AZ, expenditure on R&D would not be as much as the total of the two separate companies. He also warned that AZ would wither without Pfizer's financial muscle.
Mr. Soriot told the Committee that Pfizer wanted to acquire AZ so that it could move its head office to the UK and pay less corporate tax. "The proposed tax inversion structure, we are afraid, could generate substantial controversy and potentially delay this merger and potentially impact the reputation of our company," he said.
Concern about job losses in UK and US
AstraZeneca's board, trade union, UK and US lawmakers, and several scientific associations expressed concern and alarm about the number of job losses following a Pfizer-AZ merger.
Several UK scientific societies warned that the country could lose its position as a world leader in scientific research and development.
Will Pfizer come back in six months?
If Pfizer want to make another attempt at acquiring AZ, regulations stipulate that, unless there is an invitation by AZ, it will have to wait another six months.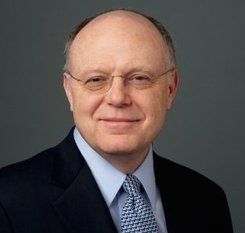 AZ shareholders believe the US government will have closed much of the tax loophole which has made many US companies buy foreign firms so they can move their headquarters abroad and pay less corporate tax.
If Pfizer's head office were moved to London, it would pay just 21% corporate tax, compared to 35% in the United States.
Some major AZ shareholders, such as Schroders, Axa, Legal & General and Black Rock, had wanted the company to engage with Pfizer, while others were against the idea.
One wonders how the AZ board and shareholders would have reacted had Pfizer's offer climbed to, say £58 per share.
Bloomberg Businessweek quotes Erik Hultgard, an analyst at Nordea Bank AB, Stockholm, Sweden, who said "There is quite a decent chance actually that there will be a deal later this year. There was quite a small spread between what the board said they could accept and what Pfizer actually wanted to pay. There are likely shareholders on both sides that want this to happen."
In an interview with the Telegraph, Mr. Read described the UK's Takeover Code which governs acquisitions as "overly complicated, overly bureaucratic and does not promote the interests of shareholders. It is inconsistent to me [for the] Government to wish to have a vibrant science centre and vibrant investment in clinical research, and yet not to have big market incentives."
Onus now on AstraZeneca
Many brokerages cut their price targets for AstraZeneca after Pfizer announced it was abandoning its attempt to acquire it. According to Reuters, Société Générale analyst Stephen McGarry lowered AZ stock to "sell" from "hold" and has set a price target of £36 per share.
The onus is now on AZ to deliver on its sales forecast predicting a 75% increase to $45 billion by 2023, compared to $25.7 billion in 2013.
---
Video – What is takeover?
When one company purchases another, we call it a takeover. When two equally-sized companies get together and become one, we call it a merger.
---