Pink plastic detergent bottles have been found washed up on Cornish beaches – they probably came from a ship during the recent storms, says the National Trust, whose volunteers have been clearing them away since Sunday. They believe the bottles contain Vanish, a cleaning solution.
The bright, pink bottles were first seen at Poldhu Cove on the Lizard, a popular venue in southwest Cornwall for surfing competitions. Conservationists say other beaches have also been affected, including Gunwalloe.
Most of the bottles are sealed, but a number of witnesses say some of them are leaking.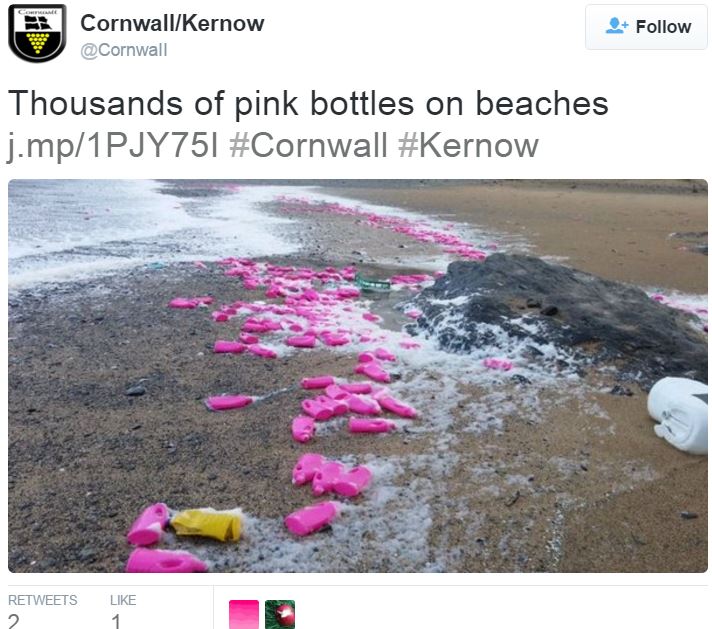 There is concern for the beautiful marine environment, because some of the bottles are leaking. (Image: twitter.com/Cornwall)
Concern for the marine environment
BBC News quoted Justin Whitehouse, who works at the National Trust, as saying:
"The main worry is all that detergent going into our beautiful marine environment, but thankfully most are full. We think it's a container that has gone overboard from a container ship, during stormy seas."
---
---
According to Cornwall Council, it is monitoring the beaches together with Natural England and the Maritime and Coastguard agency.
On Facebook, the Council wrote:
"The Council and partners, including the Maritime and Coastguard Agency and Natural England, will be monitoring beaches in the area and will follow up on any further reports."
"In the meantime the public are advised to keep children and dogs at a safe distance from the bottles should any more be washed up. No attempt should be made to recover the bottles."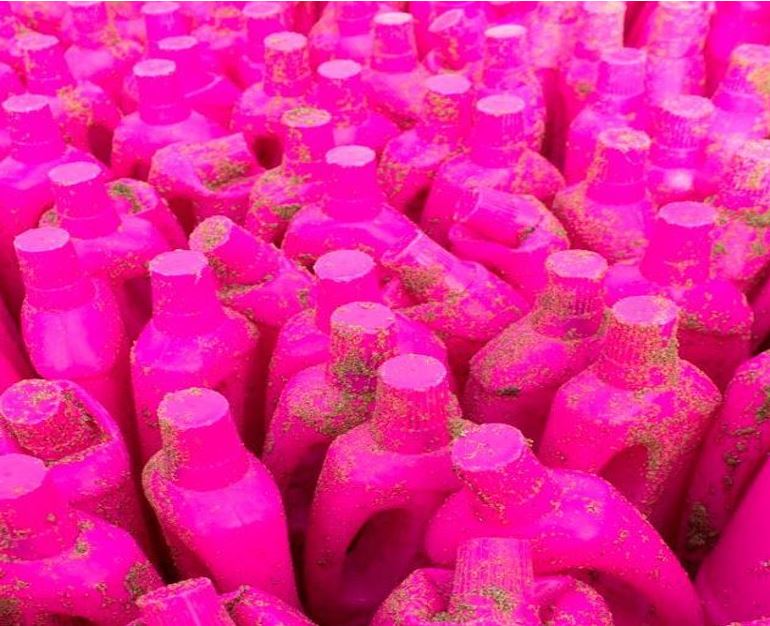 Some of the bottles gathered by volunteers. (Image: twitter.com/LizardNT)
Friends of Poldhu, whose members first spotted the pink bottles, thanked all those who have helped clean the beach.
"It has been suggested the bottles contain Vanish but they might not so do not use. In the pink is not what we want on our beach! These are full and a potential danger to wildlife."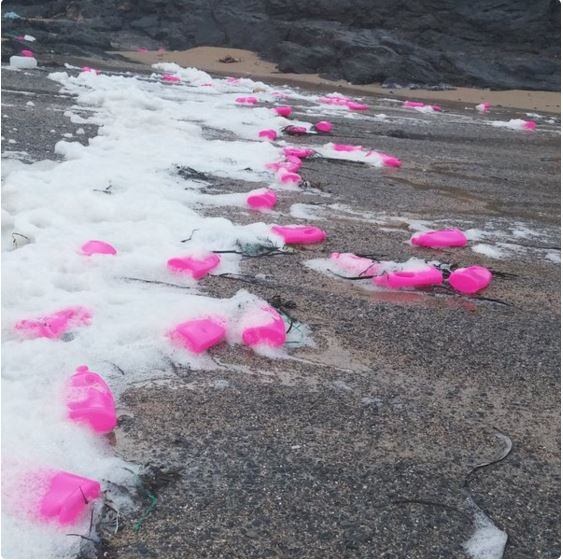 The ship must have been carrying quite a large load of bright, pink bottles, because they washed up on several miles of beach. (Image: twitter.com/friendsofpoldhu)
In an interview with Pirate FM, Alan Noble from Friends of Poldhu said:
"Plastic poses a risk to everybody, including humans. One only has to look onto the beach and you can see hundreds of micro pieces of plastic."
"It gets into fish, it gets into the food chain – it gets into us. Most of them are still sealed and they haven't leaked. But who knows how many more are out there being pounded by the surf."