The most punctual airlines landing at twenty-five UK airports in 2016, according to Which?, are (in order) KLM, Qatar Airways and Iberia. 87.84% of KLM passengers landed within fifteen minutes of their scheduled time, compared to 86.06% and 84.32% of Qatar Airways and Iberia passengers respectively.
They contrasted with the three least punctual – Air Transat, Icelandair and Norwegian (Norwegian Air Shuttle) – which managed to get only 59.17%, 56.09% and 55.17% (respectively) of their passengers at their destination airports within 15 minutes of their scheduled time.
In its latest report, Which? defines 'on time' as any arrival within 15 minutes of its scheduled time.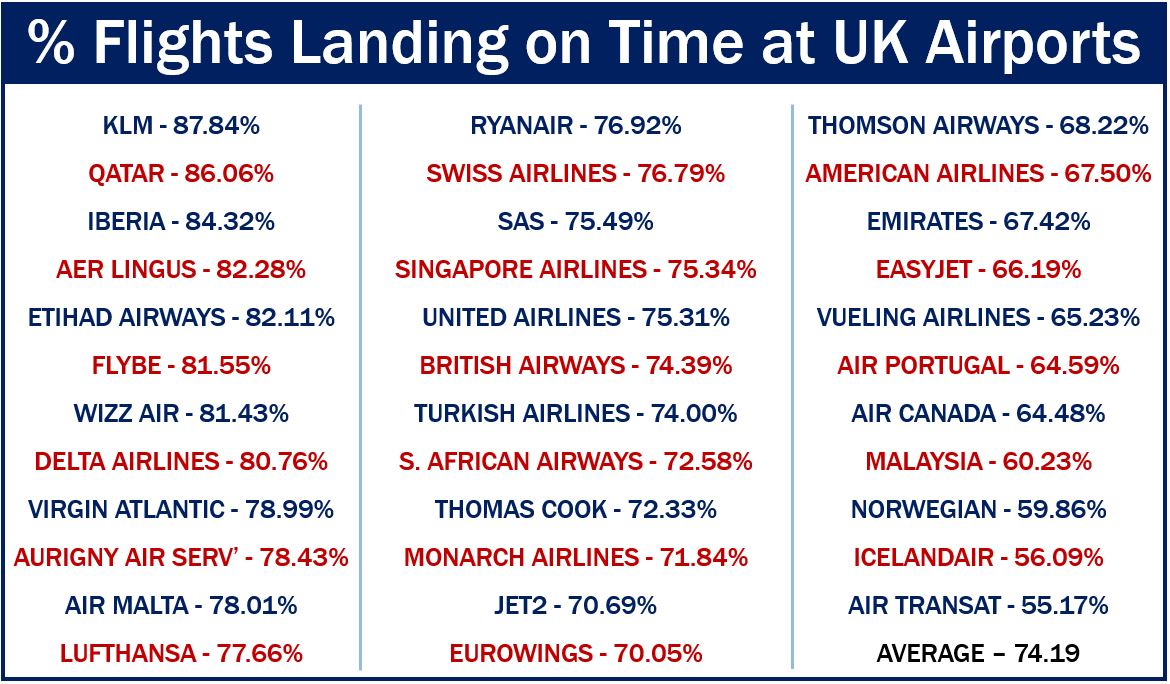 There was a significant difference regarding the punctuality of airlines landing at UK airports in 2016. (Data source: Which?)
Which?, a Consumer Association charity, gathered and analyzed data from the CAA (Civil Aviation Authority), the statutory corporation that oversees and regulates all aspects of civil aviation in the UK, covering the flights of thirty-five different airlines arriving at 25 UK airports during 2016.
Among the giant airlines based in the UK/Ireland, Virgin Atlantic, with 78.99% of flights arriving on time, beat Ryanair, British Airways and EasyJet, which managed 76.92%, 74.39% and 66.19% respectively.
---
---
Compensation offered by airlines
A passenger on a delayed flight may be able to receive compensation under the EU Denied Boarding Regulations, unless his or her flight is delayed due to 'extraordinary circumstances', i.e. things beyond the airline's control.
Damage to an aircraft due to terrorism or sabotage, strikes, and security risks are classed as extraordinary circumstances. However, the failure of an aircraft component or technical problems are not.
According to Which?:
"Compensation is provided at a set figure in euros, dependent on how long the delay is and how far you are flying. Delayed long-haul travellers could be entitled to €300 if their plane landed between three or four hours late, or €600 if their flight was at least four hours behind schedule."
"Passengers flying short haul are also potentially eligible to claim up to €250 if they are delayed by more than three hours."
Which? has a web page that focuses on air delay compensation.
Video – The world's most punctual airlines
According to UK travel analyst OAG, Hawaiian is the most punctual airline in the world, with 89.87% of its flights landing or taking off on time, followed by Panama's Copa Airlines and the Netherland's KLM.