After reeling from the shock and embarrassment of watching racist Chelsea fans abusing a Metro passenger's human rights in Paris, Britons are now told British police are investigating a second allegation involving Chelsea fans at St. Pancras station in London.
According to British Transport Police:
"(We) are appealing for witnesses to come forward after a number of men, believed to be Chelsea supporters returning from Paris by train, shouted racist chants at St Pancras station."
The London incident happened one day after Chelsea played Paris. St. Germain in the Champions League.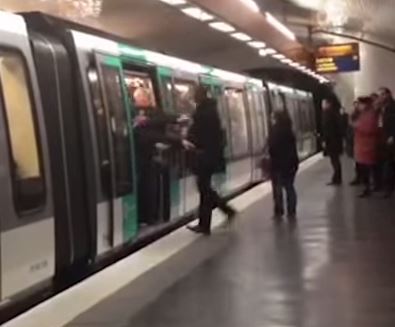 Chelsea fans pushing Souleymane off the Paris Metro train. (Image source: Guardian video)
Superintendent Gill Murray of British Transport Police said:
"The racist chanting was reported by a member of the public who was disgusted by the behaviour of the men who had travelled on the 18.40 service from Paris Gard du Nord. The men shouted as they walked through the station having alighted from the train a short time earlier."
"If you travelled on the train from Paris or were at the station and have information which can assist our investigation I would urge you to get in touch as a matter of urgency."
Superintendent Murray said it is unfortunate that even today, there is still a minority in the UK who think it is acceptable to behave in such a repugnant manner.
"There is more that needs to be done to address the issue once and for all and British Transport Police is actively working with football clubs, the football authorities and other key agencies to tackle this appalling behaviour," Superintendent Murray added.
On the previous day, Chelsea fans were filmed by a bystander preventing a black Parisian, identified only as Souleymane, from getting onto a Metro train while singing "We're racist, we're racist and that's the way we like it."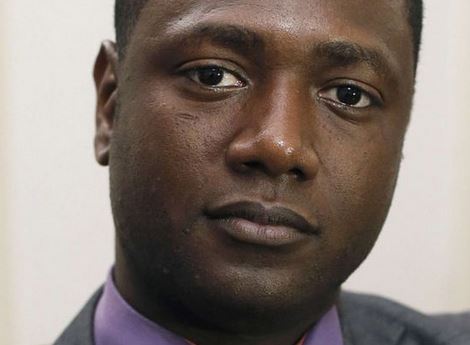 Souleymane said he lives with racism.
In an interview with the BBC's Radio 5 Live, Souleymane said:
"I felt truly wounded to the bottom of my heart that I really couldn't believe it. We're in 2015, aren't we, and we're in France. We're in a civilised country and when you are in a civilised country there are certain things you can't do."
"For me, it's a humiliation. I was humiliated in my country. I was humiliated in front of my family, humiliated in front of my mother and father."
Recording – Radio 5 Live
"They should be locked up"
Souleymane, 33, a French-Mauritanian born in Paris, father of three, told France's Le Parisien "These people, these English fans … should be locked up." He added that he had not been very surprised by the abuse because he has "lived with racism."
While not understanding what the fans were chanting, he was sure it was targeted at the colour of his skin.
He said he did not know at the time that a bystander was filming the incidents. Now that it had emerged publicly, he felt encouraged to file a police complaint.
Initially, he was reluctant to file a complaint "What could I tell my children? That daddy was shoved around on the Metro because he is black? That would be pointless."
Chelsea Football Club suspended three fans two days ago, and another two yesterday. The English Premier League club said in a statement yesterday:
"Chelsea Football Club has suspended a further two people from Stamford Bridge as a result of ongoing investigations into the incident on the Paris Metro on Tuesday evening. This makes a total of five to date."
The team's boss, Jose Mourinho, said he was 'ashamed' by the incident.
Guardian Video – Racial abuse by Chelsea fans
The bystander, an Englishman, filmed the incident and sent the footage to the Guardian.