Three UK supermarkets are recalling food and toys. The three supermarkets are Sainsbury's, the Co-Op, and Tesco. All three have issued urgent recalls. One product may have broken glass, another may have an ingredient it shouldn't have (mustard), while the toys are potential choking hazards.
Below is a breakdown of items the three supermarkets have recalled.
Sainsbury's recall
Sainsbury's says a batch of its Sliced Beetroot jars may contain small pieces of broken glass. According to FoodGov.uk:
"The presence of glass makes this product unsafe to eat and presents a safety risk."
– Name: Sainsbury's Sliced Beetroot.
– Jar Size: 340g.
– Best before: August 2019
– Item code: 7860491
– Batch code: L318N1737
If you have purchased the above product, do not consume it, Sainsbury's urges. Rather, take it back to the store for a full refund.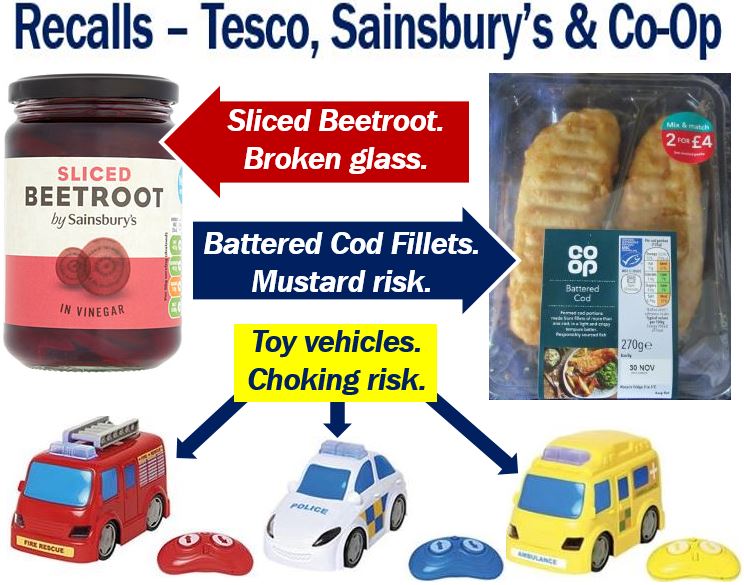 Tesco recall
Tesco says that three toys have defects. The small directional wheel underneath the toy vehicles can become detached. This could subsequently become a choking hazard.
The supermarket giant is recalling these three toys: Carousel Drive and Talk Police Car, Carousel Drive and Talk Fire Engine, and Carousel Drive and Talk Ambulance.
Tesco asks customers who have bought one of these toys to stop using it. You should bring it back to the store for a full refund. You do not need to have a receipt.
Customers can contact Tesco Customer Services directly on UK 0800 505 555 or ROI 1850 744 844.
Co-Op recall
The Co-Op is recalling its Breaded Cod Fillets. The supermarket chain says that some packs were probably incorrectly packed.
Some of the packs may have battered fillets containing mustard. However, the label does not mention mustard.
Subsequently, the product is a potential health risk for people with a mustard allergy. It is also a potential health hazard for those with an intolerance or allergy to milk or milk constituents.
– Product Name: Co-Op Breaded Cod Fillets.
– Pack Size: 270g.
– Use-by date: 2 April 2018.
The company is asking customers who purchased this product to return it to the store for a full refund.