Refuse to renew water-taking permits for Nestlé, Ontarian environmentalists are urging their Government. Water, they insist, should be for life and not for making money. Many people in Ontario wonder how it is that large water-bottling companies like Nestlé Waters can continue taking millions of litres of water out of the ground during a severe drought.
Nestlé Waters Canada (Nestlé) purchased the Middlebrook Water Co. spring water source.
According to Wellington Water Watchers, that water is located within one of the largest subwatersheds in the Grand River watershed, where the Grand River flows through the bottom of a gorge and is home to the best brown trout fishing in North America.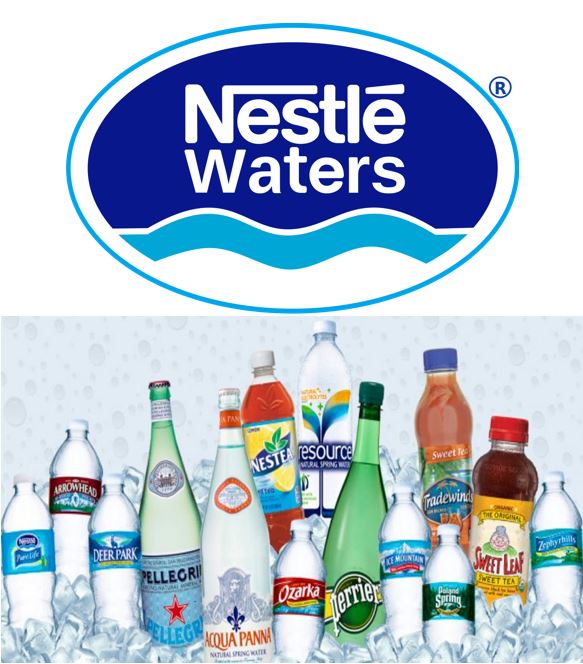 Nestlé Waters, the bottled water division of the Nestle Group, has approximately 32,200 workers globally and sixty-four distinct brans including Perrier, Vittell, San Pellegrino, Acqua Panna, Poland Spring and Arrowhead. (Logo Image: nestle-waters.com/media)
Nestlé extracting water during drought
Nestlé's permit in Aberfoyle, Ontario, expired on 31st July, but the Swiss multinational has been allowed to keep taking out water from a local well even though the area is suffering from a severe drought.
---
---
The environmental group says the Environment Ministry did not allow the usual 30 days of public comment before renewing Nestlé's application. Instead, it granted an automatic extension without consulting anybody in the local area.
However, the Ministry of the Environment says a water-taking permit continues to be valid if a renewal application is submitted at least 90 days before its expiration date. As soon as the supporting documents have been reviewed, the Ministry says it intends to post Nestlé's application for public comment.
Save Our Water was formed in April 2015, and believes that Nestlé's challenge is a challenge to all. "It's not just about us, it's about you—about you, where you live. Our struggle to saveOURwater is also a struggle to keep your water public, to insist on every person's right to clean drinking water." (Image: pinterest.com/pin)
In a press release, Nestlé Waters Canada wrote:
"Although our permit expired on July 31, 2016, we have received confirmation from the MOECC that during this application phase, under the Ontario Waters Resources Act, Section 34.1 (6), the existing Permit to Take Water remains intact until the MOECC moves forward on a decision. We will continue to operate as usual."
---
---
"On April 11, 2016 as part of the normal process of our permit, Nestlé Waters Canada has submitted an application for renewal of the existing water taking permit for the Aberfoyle water source to the Ontario Ministry of Environment and Climate Change."
"Our factory in Aberfoyle has operated for the last 15 years sustainably and Nestlé Waters is not asking to increase the permitted water taking limit – Nestlé Waters is applying to maintain the current permit level over a 10 year period."
According to documents on a Ministry website, Nestlé Canada has three water permits which allow it to take out a total of 8.3 million litres of water each day for bottling. Nestle Waters Canada, which is part of Nestle Canada, has six Ontario permits which allow it to take out a further 12 million litres each day.
Other water-bottling companies in the area also have permits to take out water, including Gold Mountain Springs (6.1 million litres per day, St. Joseph Natural Spring Water (5.5 million litres) and Gott Enterprises (5.8 million litres).
---
Listen to the kids! #SayNoToNestle #SayNoToBottledWater TAKE ACTION: https://t.co/OrbTr8IRrg #RFE16 pic.twitter.com/fUM2CLTyh7

— WellingtonWaterWatch (@wwaterwatchers) 20 August 2016
---
Companies pay a pittance to extract water
They have to pay the Ontario authorities $3.71 for every million litres of water they extract, after paying a $750 fee for low-to-medium risk water takings, or $3,000 for high-risk ones.
The amount these companies pay for taking out water represents a paltry 1.2% of the government's total water-quantity management costs. A growing number of people, including former environmental commissioner Ellen Schwartzel, have severely criticized the Ministry for charging the water-bottling companies such a pittance.
According to the Ministry, there are approximately six-thousand water-taking permits on its website. The total quantity of water taken out by water-bottling businesses, mining companies and golf courses comes to more than 1.4 trillion litres each day.
---
#StopNestle @ #Aberfoyle
7.2 million #Water bottles/day for 10yr?@Glen4ONT @Kathleen_Wynne https://t.co/VBwz9Z9QJ2 pic.twitter.com/R0zXGrGhHj

— SaveOurWater.CA (@saveourwaterca) 21 July 2016
---
These commercial water-taking permits can be valid for over a decade, regardless of annual, monthly or seasonal rainfall, i.e. even if there is a severe drought, permit holders can carry on taking out millions of litres of water each day.
Farmers do not pay to take out water, if it is for farming purposes – the amount they take is less than 0.5% of the total.
Wellington Water Watchers (WWW) wrote:
"Water quantity and quality issues are of growing concern due to increasing population, the effects of climate change, and competing interests in water supplies."
"The packaged water fad has taken the world by storm. In addition to the environmental impacts of single-use plastic water bottles, contamination and even depletion of groundwater in local communities are possible scenarios from the effects of water bottling and packaging facilities."
What about the trucking effect?
When deciding on each water permit application, the effects of trucking on human health, road infrastructure and the environment are not taken into account, says WWW.
Unlike gravel hauling, which in Ontario is excessive but also necessary for building roads and improving infrastructure, there are no regulations regarding how long or often water trucks can operate – if the company wants, a truck can haul for 24 hours each day for 365 days of the year.
WWW added:
"Hauling water for the purposes of packaging it into one-time use disposable packages is 100% avoidable and is not a value added industry."
"The tanker trucks used for these permits consume a tremendous amount of energy and create avoidable emissions and noise."
Video – Canadian town takes on Nestlé Waters
This Al Jazeera video, released in April this year, shows how the people in Elora, southeast of Toronto, took on Nestlé Waters saying homes and farms could suffer if it takes water out of the ground and sells it.