Scientists at the University of Leeds in England are heading a £4.2m national infrastructure research project which envisages having robots repairing street lights, potholes, and water & gas pipes with minimal environmental impact and disruption to the public.
Professor Phil Purnell, from the School of Civil Engineering and colleagues will develop small robots to detect problems in infrastructure and then fix them.
The project, which was announced by Universities and Science Minister, Jo Johnson, will be funded by the Engineering and Physical Sciences Research Council (EPSRC).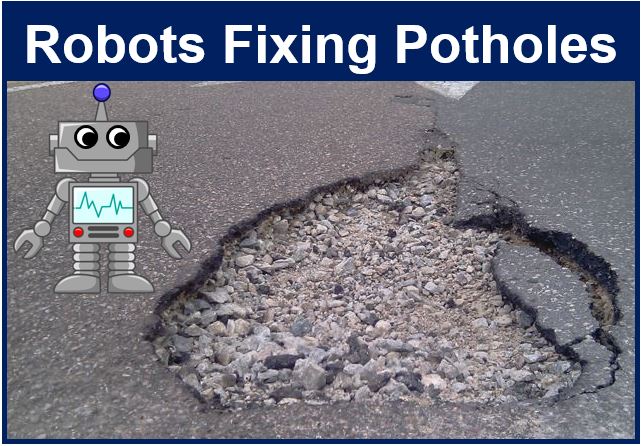 Imagine robots seeking out potholes in our roads and repairing them while we sleep.
The team will start off by developing new robots and technologies in three areas:
– Perch and Repair: drones will be developed that can perch on high structures like birds and perform repair tasks, such as fixing street lights.
---
---
– Perceive and Patch: drones will be created that can autonomously inspect, diagnose, repair and prevent potholes in roads.
– Fire and Foreget: the development of robots which will operate inside utility pipes, inspecting, reparing and metering them, as well as reporting tasks.
Testing will take place in Leeds
The researchers will work with the UK Collaboration for Research in Infrastructure and Cities (UKCRIC) and Leeds City Council to ensure that the technology is thoroughly tested before being trialled in a safe and responsible manner in Leeds.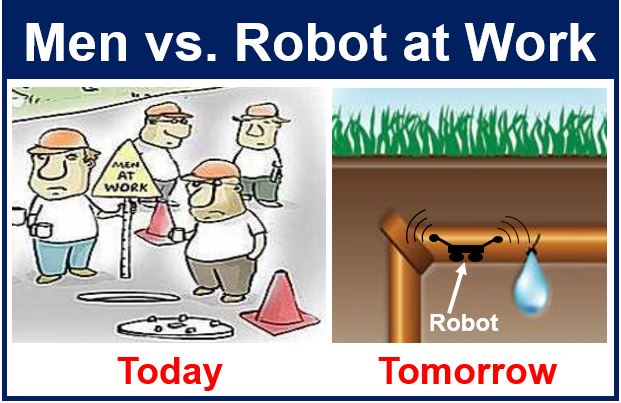 Imagine what driving would be like if they did not have to dig up the roads to fix utility pipes.
Prof. Purnell said:
"We want to make Leeds the first city in the world to have zero disruption from street works. We can support infrastructure which can be entirely maintained by robots and make the disruption caused by the constant digging up the road in our cities a thing of the past."
Director of the National Facility for Innovative Robotic Systems at the University, Dr. Rob Richardson, added:
"Detecting faults and weaknesses early and then quickly performing smart repairs is the key. Our robots will undertake precision repairs and avoid the need for large construction vehicles in the heart of our cities. We will use the unique capabilities of our robotic facility to make new, more capable robots."
Judith Blake, Leader of Leeds City Council Councillor, said:
"We are delighted to be working with the University of Leeds on this intriguing and groundbreaking project. We are very keen to explore new innovations and use the latest technologies to improve how the city runs through our Smart Cities programme, and this idea of turning science fiction into fact will be fascinating to watch."
PhD student, Joe Norton, talking to Jo Johnson MP about the University's robotic systems, when the Minister visited the University in June 2015. (Image: leeds.ac.uk)
"We look forward to following its development with interest as part of a relationship between the council and the university that continues to go from strength to strength."
The project, called 'Balancing the impact of City Infrastructure Engineering on Natural systems using Robots' – will also monitor the economic, political, environmental and social impact of these new technologies in Leeds.
Dr Raul Fuentes, from the School of Civil Engineering, said:
"The critical part of this project is being proactive rather than reactive. This is crucial to ensuring we have sustainable and resilient infrastructure. We will target our interventions so that they are invisible to the human eye, before they become a real problem."
Minister Jo Johnson said as she announced the funding during a visit to the University of Cambridge:
"As a One Nation Government we are investing in world-class science and engineering across our country. We want the UK to be the best place in Europe to innovate and this £4.2 million investment will bring together researchers to address some of the most pressing engineering challenges we face."
"From ground-breaking work with robotics to advanced air-flow simulators, this investment will help tackle our aging water infrastructure and air pollution in cities to improve the lives of millions of people around the world."
Prof. Purnell said:
"We have a strong reputation for working with community, industry and government partners, because we have such strength across a wide range of expertise, including all branches of engineering, computing, economics and environmental science."
"We need this combined scale and knowledge if we are going to succeed in addressing some of the major challenges and build cities that are fit for the future."
Leeds researchers will be working together with scientists from the universities of Southampton, Birmingham, Nottingham, Sheffield, Oxford, as well as UCL and Imperial College London.