The Saving Scotland's Red Squirrels project has received a big boost this week, with RSPB Scotland joining the fight to protect Britain's only native squirrel. The wildlife conservation charity has joined five other charitable organisations, landowning bodies, and the government in an attempt to secure the future of the iconic woodland mammal.
Since the introduction of the larger grey squirrel (Sciurus carolinensis) from North America in the 19th Century, red squirrel (Sciurus vulgaris) numbers have declined significantly.
Ninety-five percent of England's and Wales' red squirrels have been wiped out since 1952. Seventy-five percent of the United Kingdom's remaining population lives in Scotland.
Without our help, red squirrel populations will continue declining. (Image: Wikimedia)
Squirrel Pox deadly for red squirrels
Red squirrels are still under threat because of competition from greys in Scotland. They compete for food and habitat, and transmit squirrelpox virus.
According to Northern Red Squirrels, the Squirrel Pox Virus is generally fatal to red squirrels. Grey squirrels have developed immunity to the disease, having been exposed to the virus for several years. However, greys are carriers of the infection and can spread the disease to red squirrels.
Approximately 100% of infected, untreated red squirrels in the wild die, usually within 15 days of becoming infected. If caught early enough, vets may be able to provide some treatment, but even then success rates are low.
Stopping greys moving northward
The Saving Scotland's Red Squirrels (SSRS) project aims to carry on trying to stop the spread northwards of grey squirrels and squirrel pox through a programme of grey squirrel control in a zone running coast-to-coast along the Highland Boundary Fault.
Minister for Environment, Climate Change and Land Reform, Dr. Aileen McLeod, said:
"Scotland has adopted a pioneering approach to protecting our red squirrel population, which involves a number of organisations working together. The numbers of red squirrels in Scotland are increasing and are now returning to their former habitats."
"This has been most notably in the Borders, Dumfries and Galloway, Ayrshire, and the north-east of Scotland where people are once again seeing red squirrels visiting the bird feeders in their gardens."
"This is due to the great work being carried out by various stakeholders, such as the Scottish Wildlife Trust through the Saving Scotland's Red Squirrel's project, landowners, Forestry Commission Scotland, and volunteers who have been undertaking targeted control of grey squirrels."
"I am also delighted that RSPB Scotland are now involved in Saving Scotland's Red Squirrels, who will bring a wealth of knowledge to the project, which will benefit red squirrel conservation in Scotland."
Massive survey each year
SSRS engages in a massive survey of red and grey squirrels across several regions of Scotland throughout March and April.
The survey's aim is to get a snapshot of red and grey distribution each year. Now in its fifth year, it allows the organization to build up a picture of how the native reds are faring, and where grey squirrel control-work needs to focus.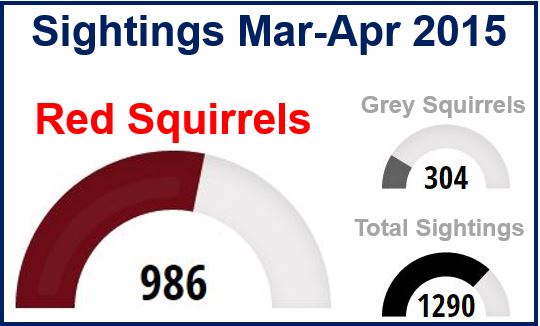 SSRS carries out a huge survey of red and grey squirrels every spring. (Image: scottishsquirrels.org.uk)
Scotland's tree cover was once so extensive that a red squirrel could have travelled from coast-to-cost without once touching the ground. There are only 120,000 red squirrels left in Scotland today, says SSRS, that's half the number of grey squirrels.
Director of RSPB Scotland, Stuart Housden, said:
"We are in the privileged position of owning and managing more than 80 nature reserves across Scotland, and we already posses a huge responsibility for delivering on the conservation of our native red squirrels."
"We have been very impressed with the work of the Saving Scotland's Red Squirrels project, as it represents what we believe is the very best chance of preventing the extinction of this species on the British mainland."
"We are really pleased not only to be joining forces with the member organisations to help contribute to this important work, but also to commit hard-won charitable funds to this excellent project. We are looking forward to a very productive and constructive partnership."
Project Manager for Saving Scotland's Red Squirrels, Mel Tonkin, said:
"Saving Scotland's Red Squirrels has already been successful in beginning to reverse the downward trend for red squirrels in Scotland, but our work will need to continue for many years to really secure the future of the species."
"We are therefore delighted with this new partnership with RSPB Scotland. The RSPB has plenty of experience in the challenges of long-term species conservation and brings with it the opportunity to get a lot more people engaged in red squirrel conservation."
Saving Scotland's Red Squirrels is a partnership project between the Red Squirrel Survival Trust, Scottish Land & Estates, the Forestry Commission Scotland, Scottish Natural Heritage, RSPB Scotland, and the Scottish Wildlife Trust.
The SSRS is inviting people to report a squirrel sighting.
Video – Scottish Red Squirrels