Conservationist Steve Trewhella has captured some spectacular images of giant jellyfish swimming in the sea off the West Country coast. Expecting to find just one or two, like last year, Mr. Trewhella was delighted to find himself surrounded by hundreds of the magnificent creatures.
Mr. Trewhella explained he had had set off with his grandson Finn Hatcher, 10, in the hope of finding just one barrel jellyfish, known scientifically as Rhizostoma pulmo, to amaze the young boy.
In 2014, he was super-pleased to have come across just two of them. Earlier this month he was simply astounded to discover literally hundreds and possibly thousands of the 5-foot-long creatures about one mile off the coast of Kimmeridge in Dorset.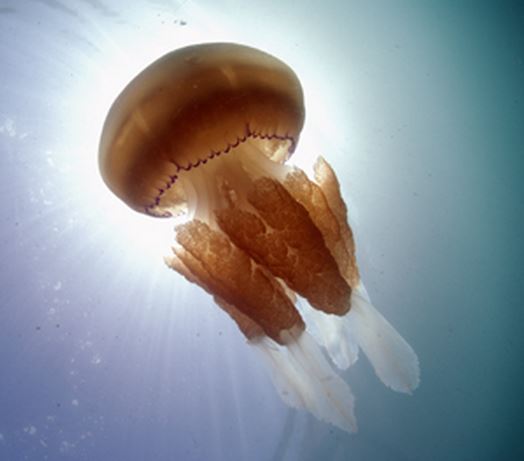 Mr. Trewhella photographed this large Barrel Jellyfish (Rhizostoma pulmo) at Chesil cove, Portland. (Image: ukcoastalwildlife.co.uk)
Mr. Trewhella said to the North Devon Journal:
"Finn had never seen one and I hoped we might be able to spot a couple and he would be able to get into the water with one. We never expected to stumble across more than we knew what to do with."
"They were wonderful and such magnificent animals, and you just can't help but be impressed when you see a 4ft-long jellyfish by your side. We saw one and then every couple of seconds another, and another and another."
"We last got such a glut of them in the 1980s but it was nothing like what I saw this year. They were just everywhere. I've never seen anything like it."
Experts believe the jellyfish population explosion could be due to over-fishing, which means Rhizostoma pulmo had fewer predators around when it was young.
Video – Barrel Jellyfish filmed off Dorset coast