The Russian ruble continued on its downward spiral following OPEC's decision not to reduce oil output. Other oil-related currencies also took a beating. On Friday, the ruble ended the day at 49.965 to the dollar, its lowest level ever.
The Canadian loonie and Norwegian krone, which also tend to follow the price of oil, both fell against the US dollar.
The loonie fell 0.7% against the dollar on Friday, reaching C$1.1426 (per US$).
By the end of Friday trading, one US dollar bought 7.0215 krone, compared to 6.939 on Thursday's close. The Norwegian currency versus the dollar is now at a 5-year low. This was despite the Norwegian government reporting unemployment falling to 2.6% in November and retail sales surging by 0.6% in October.
Russia in serious trouble
Russia, whose economy is facing economic sanctions, declining oil prices, rising inflation and unprecedented levels of capital flight, is in serious trouble.
Russia is one of the biggest oil producers in the world. Oil and natural gas sales represent half of its budget, which is balanced when oil sells at $100+ per barrel. The decline in oil prices is a massive blow for the country's economy which is on the brink of recession.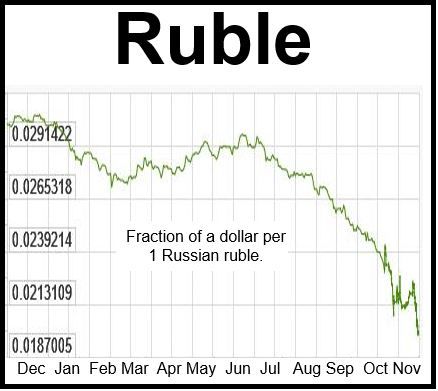 The ruble has fallen steeply against the dollar since the beginning of this year. (Chart Source: X-Rates)
Russian First Deputy Prime Minister Igor Shuvalov said on Russian state-TV on Saturday:
"The experts say that one of the main reasons behind the falling oil prices is that some Arab oil producing countries. . . are squeezing out shale oil from the international market. If such actions are happening with the aim to fix or confirm one's position on the market, we should not do anything at the moment to scale down our positions."
There was not much else Mr. Shuvalov could have said after OPEC's meeting. The country had spent the last two weeks in vain lobbying fiercely for the oil cartel to reduce oil production.
The Bank of Russia said on Friday that it is extending the limits on currency swaps for the next couple of weeks in the hope of discouraging bets on a declining ruble.
Even the euro, which is not linked to oil prices, fell 0.1% against the dollar to $1.2443.
The dollar gained against the yen, with lower oil prices plus other factors speeding up the sale of the Japanese currency. By the end of trading last week, the dollar was at ¥118.66.