The Russian ruble surged by 3.6% in midday trading after the Bank of Russia abandoned its daily controls on the value of the currency on Monday, allowing it to float freely in financial markets.
After hitting a record-low 48 to-the-dollar last week, today the ruble firmed to 45.
Russia's central bank, which had planned to free the battered ruble in 2015, decided to bring the move forward after the currency lost nearly half its value against the US dollar since the beginning of this year.
The central bank announced that effective Monday it would stop setting daily limits on the currency's fluctuations and is no longer obligated to intervene to support the ruble if it veers from desirable bands.
The Bank of Russia added that if there are "threats to financial stability", however, it will intervene.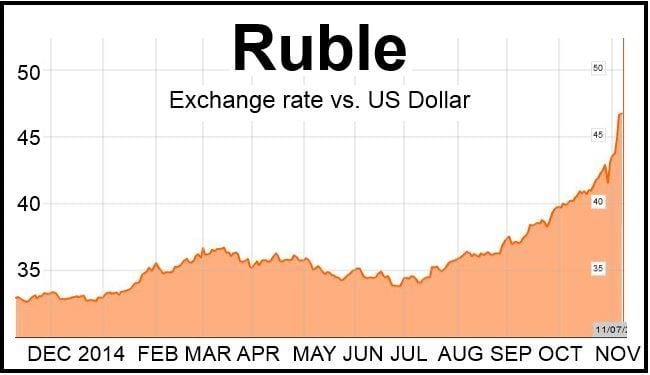 In an official statement released on Monday, the Bank of Russia wrote:
"Effective from 10 November 2014, the Bank of Russia abolished the exchange rate policy mechanism through cancelling the permissible range of the dual-currency basket ruble values (operational band) and regular interventions on and outside the borders of this band. However, the new approach of the Bank of Russia to operations in the domestic market does not provide for complete abandonment of foreign exchange interventions, which can be implemented in case of financial stability threats. Meanwhile, the new exchange rate regime provides for predominantly reverse transactions in the domestic market."
"As a result of the implementation of this decision, the ruble exchange rate will be determined by the market factors, that should enhance the efficiency of the Bank of Russia monetary policy and ensure price stability. Besides, the new approach to operations in the domestic FX market will contribute to faster adjustment of the economy to changes of external conditions and enhance its resistance to negative shocks."
Russian President Vladimir Putin said from Beijing where he attended the Asia-Pacific Economic Cooperation summit, that he had full confidence that the Bank of Russia's move will help put the ruble on a more stable footing.
October measures failed miserably
In October, the central bank spent nearly $30 billion trying to prop up a free-falling ruble. It also increased its benchmark interest rate from 5.5% to 9.5% last month. Both measures failed to stem the currency's slide.
Elvira Nabiullina, Governor of the Bank of Russia, said today:
"We will temporary limit liquidity in rubles, because it's being used not only for financing the economy but also for currency market speculations."
Currency experts say today's respite for the ruble is likely to be short-lived. Until the EU, US, Japan, Australia and other allies lift the economic sanctions against Russia and oil prices firm up, the ruble will probably slide further.
Earlier this year the central bank had forecast capital flight of $90 billion for 2014 – the estimate has been raised to $128 billion.