The Central Bank of Russia has increased its benchmark interest rate to 10.5%, that is a rise of a full percentage point, as it attempts to bring down accelerating inflation and stem the relentless depreciation of the ruble.
At the end of October, Russia's central bank raised the rate from 8% to 9.5%.
In an official statement on Thursday, the Central Bank of Russia said that in November and early December the upward movement of consumer prices continued gathering pace.
The Central Bank of Russia wrote:
"Observed increase in inflation expectations and ruble depreciation expectations pose substantial inflation risks. The decision taken by the Bank of Russia is aimed at slowing consumer prices growth to the target of 4% in the medium run. In case of further aggravation of inflation risks, the Bank of Russia will continue to raise the key rate."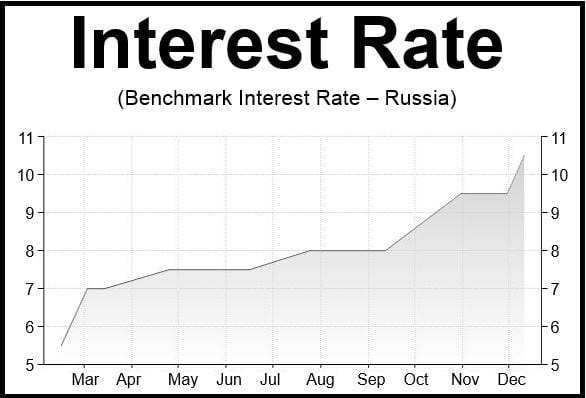 Despite raising its benchmark rate several times this year, inflation has continued accelerating and the ruble has depreciated.
According to estimates made on December 8th, consumer price rises have increased to 9.4%, while core inflation in November stood at 8.9%. Accelerated inflation has been driven by the decline in the value of the ruble in the second half of this year, the bank says.
Price dynamics have also been affected by external trade restrictions imposed in August 2014, the central bank added. "Meanwhile, price growth rate for certain food items flattened out due to the increase of supply by the Russian companies and new import contracts."
The Bank of Russia forecasts end of year inflation will be about 10%. About 4.9 percentage points of this will have come from the ruble's depreciation, import restrictions, and "other factors specific for the markets of several food products."
While raising interest rates may have an effect on consumer price growth, it will also have a negative impact on GDP. Russia is already on the brink of recession, and the move is likely to exacerbate the contraction.
The ruble, which has been sliding since the beginning of this year, hit new lows after the interest rate hike was announced, trading at 55.45 to the dollar and 68.98 to the euro.