Russian sanctions have started to have a negative effect on the MICEX index, where Moscow's stock exchange prices are tracked in rubles; it fell 2% on Friday, while the RTS dropped 2.4% (RTS is priced in US dollars).
Russian sanctions have been announced by President Barack Obama and the European Union. Obama said the initial sanctions could be extended to crucial parts of the Russian economy, including defense, mining and natural resources, if further incursions are made into the Ukraine.
One day after the US punished 20 Russian officials with asset freezes and travel bans, European Union leaders added 12 more names to their list.
Russian sanctions starting to bite
Visa bans and asset freezes are already placing pressure on Russia's financial services.
Rossiya and SMP Bank, two major Russian banks, have been denied the services of Mastercard and Visa. Rossiya, the country's 15th biggest bank with assets of $12 billion said both credit card companies had stopped providing services for its clients without warning.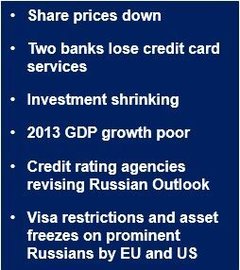 Bank Rossiya will be frozen out from the dollar, US officials said. The bank is linked to several prominent Russian business people. The BBC quotes US officials who say that Bank Rossiya "is a personal bank for senior officials of the Russian Federation."
Visa and Mastercard confirmed that their provision of services to the two banks was stopped without notification.
SMP bank described the credit card companies' actions as illegitimate, adding that its owners should be the targets of sanctions and not the bank itself.
SMP bank belongs to President Vladimir Putin's two lifelong friends, Arkady Rotenberg and Boris Rotenberg (brothers).
Putin complained that the sanctions were unfair and unjustified, he described Bank Rossiya as simply an average bank which has not been involved in the events in Crimea. He said he will open an account there on Monday and have his salary transferred into it.
Putin announced that he had ordered the Bank of Russia, the country's central bank, to "take the bank's clients under protection and provide all possible assistance to them."
Sanctions have minimal effect, says central bank
The Bank of Russia assured that sanctions by the West against Rossiya did not affect the financial institution's financial stability significantly.
Russian sanctions may only have targeted a tiny part of the country's economy so far, however, moves to isolate the two banks have pushed down bank shares across the country.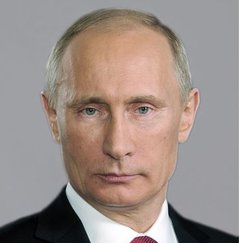 Sberbank, the largest bank in Russia, saw its shares fall by 2.15%, and those of VTB Bank, one of the country's leading universal banks, had a 2.59% fall.
Gazprom, the world's largest natural gas extractor and one of the biggest companies worldwide was down 2.25%.
Russian sanctions may affect country credit rating
Fitch Ratings Inc., with headquarters in New York and London, announced this week that it has "revised the Outlook on Russia's Long-term foreign and local currency Issuer Default Ratings (IDR) to Negative from Stable and affirmed the IDRs at 'BBB'. The issue ratings on Russia's senior unsecured foreign and local currency bonds have also been affirmed at 'BBB'. The Short-term rating has been affirmed at 'F3' and the Country Ceiling at 'BBB+'."
Fitch said the revision of the Outlook to Negative was taken after considering the potential impact of Russian sanctions on the country's business environment and economy. GDP growth in 2013 slowed to 1.3% and investment is shrinking. "Since US and EU banks and investors may well be reluctant to lend to Russia under the current circumstances, the economy may slow further and the private sector may require official support."
The United States and European Union have imposed sanctions – freezing of property and financial assets, and visa restrictions – to a list of Ukrainian, Russian and Crimean individuals who they determined contributed to the current situation in Ukraine, Fitch wrote.
Fitch added:
"The direct impact of sanctions announced so far is minor, but the incorporation of Crimea into the Russian Federation will likely lead the EU and US to extend sanctions further in response. Furthermore, foreign investors may anticipate further official action and restrict Russian entities' access to external financing."
"**Risk premiums have already risen and syndicated loans to a number of large corporates are reported to be on hold. In a worst-case scenario, the US may prevent foreign financial institutions from doing business with Russian banks and corporates.
** Risk premium is the difference in the expected yield (interest rate growth) of a high-risk investment (corporate bonds) compared to a risk-free one. An example of a risk-free investment is a government bond.
As long as it is not prolonged, a pause in access to external markets is "manageable", the credit rating agency. During the March to December 2014 period the banking sector must repay $36 billion and the corporate sector $67 billion, according to data from the Bank of Russia. "If corporate financing needs cannot be met in the markets, the authorities could draw on ample FX reserves to provide FX liquidity, through the state-owned banks or from the reserve fund."
Standard & Poor's (S&P) also announced it is revising its Outlook for the Russian economy.
Dmitry Peskov, President Putin's spokesman said the credit rating agencies' moves were subjective and had been "ordered" by somebody.
Tit-for-Tat sanctions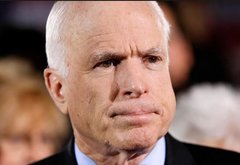 If Russian authorities had hoped their tit-for-tat sanctions on American officials and politicians would trigger outrage and fear they are in for a huge disappointment. In fact, the nine US lawmakers felt honored to be added to the list.
Speaker of the House, John Boehner said "Proud to be included," while head of the Energy Committee, Senator Mary Landrieu described being included as a "Badge of honor."
Chairman of the Foreign Relations Committee, Robert Menendez said "If standing up for the Ukrainian people, their freedom, their hard-earned democracy and sovereignty means I'm sanctioned by Putin, so be it."
Arizona Senator John McCain said "I guess this means my spring break in Siberia is off, my Gazprom stock is lost, and my secret bank account in Moscow is frozen."
The list also includes Dan Pfeiffer (senior adviser to Obama), Nejamin Rhodes and Caroline Atkinson (deputy national security advisers), and Dan Coats (Indiana Senator).
Video – What are Sanctions?