In a public announcement, Heineken N.V. confirmed that it was approached by SABMiller plc regarding a potential takeover of Heineken. The Dutch brewery consulted with its majority shareholder and informs that the offer is "non-actionable".
Heineken wrote in a press release:
"The Heineken family has informed SABMiller, Heineken and Heineken Holding N.V. of its intention to preserve the heritage and identity of Heineken as an independent company. The Heineken family and Heineken N.V.'s management are confident that the Company will continue to deliver growth and shareholder value. Heineken does not intend to make any further public statements in relation to this announcement."
Apparently, the acquisition attempt was a move by London-based SABMiller plc to deter a bid from Anheuser-Busch InBev.
SABMiller, whose brands include Peroni, Grolsch and Coors, is the second-biggest brewer in the world, after Belgian-Brazilian Anheuser-Busch InBev.
Heineken's most famous brands, apart from Heineken lager, include Sol, Tiger, Strongbow, Amstel, Birra Morretti and Newcastle Brown Ale.
Since the beginning of this year, its shares have increased by 21%, demonstrating that its strategy of establishing premium beer brands has gained traction with drinkers and investors.
The three largest brewing companies globally are:
Anheuser-Busch InBev: c.$43.2 billion
SAB Miller: revenue 2013 c.$23.2 billion.
Heineken: revenue 2013: c.$23 billion.
Bloomberg News quoted unnamed people claiming to be familiar with the matter who said the De-Carvalho family rejected SABMiller's preliminary offer. It would have made the family one of the biggest holders in the combined entity.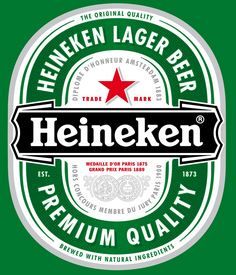 The family do not want to lose control of the company said to be valued at about €34 billion ($44 billion). The unnamed people say they do not know whether SAB will approach the De-Carvalhos again with a new offer.
Any acquisition would further consolidate the industry following the $52 billion fusion of Anheuser-Busch and InBev that created AB InBev in 2009.
How much SABMiller offered to acquire Heineken was no disclosed.
Giants predators and giant preys
Rumors have grown among analysts that Anheuser-Busch InBev (AB InBev) is planning to acquire SABMiller.
The Belgian-Brazilian multinational, which has a 25% global market share, has spent more than $100 billion over the last ten years acquiring Budweiser, Corona, and a string of other famous brands.
Today, AB InBev has 17 brands that generate more than $1 billion (each) annually in revenue, plus over 180 additional brands. Its portfolio includes Stella Artois, Beck's, Hoegaarden, Bud Light, Skol, Antarctica, Quilmes, Brahma, Modelo Especial, Michelob Ultra, Harbin, Sedrin, Jupiler, Corona, Budwieser, Chernigivske, and Sibirskaya Korona. In 2013, AB InBev's total revenue exceeded $43 billion.
SABMiller is interested in purchasing Heineken, which would provide it with a huge revenue boost and deeper penetration into emerging markets.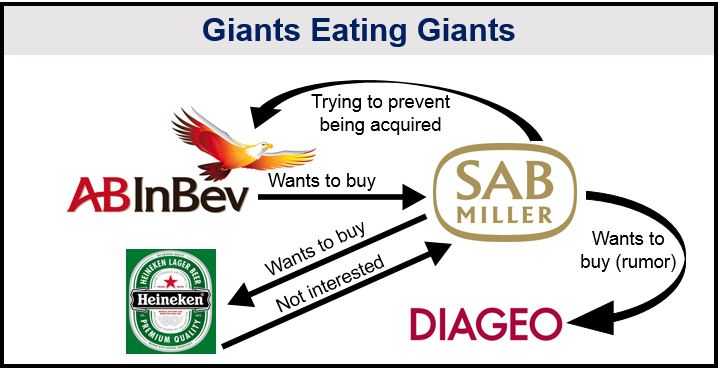 The brewery industry will soon undergo a metamorphosis.
According to UK newspaper The Telegraph, SABMiller is rumored to be contemplating a merger with London-based multinational drinks company Diageo, whose products include Smirnoff and Guinness.
AB InBev's beer sales growth has slowed down. Acquiring SABMiller would allow it to gain deeper access within the African market, where its presence is weak.
SABMiller, the 8th largest company on the FTSE 100, with a market capitalization of £55 billion, has seen its shares rise by 27% over the last seven months, as investors await an impending deal with AB InBev.