An SAP Concur acquisition deal has been agreed. The German software multinational giant will purchase the American provider of travel and expense management services for $8.3 billion. SAP has been desperate to boost cloud sales and buying Concur offers the company a rapid route.
This is SAP's largest acquisition ever, beating its 2010 takeover of Sybase Inc. for $7.1 billion.
The German company's US subsidiary, SAP America Inc. offered $129 for each Concur Technology share, which is a premium of 20% over the September 17 closing price, thus valuing the company at about $8.3 billion.
The acquisition will be financed from a credit facility agreement totaling up to €7 billion ($9.03 billion) to cover the price of the purchase, debt refinancing and other costs related to the takeover. SAP says it will soon publish fuller details of how the transaction will be funded.
Bill McDermott, CEO of SAP, said:
"The acquisition of Concur is consistent with our relentless focus on the business network. We are making a bold move to innovate the future of business within and between companies. With Ariba, Fieldglass and Concur, SAP is the undisputed business network company. We are redefining how businesses conduct commerce across goods and services, contingent workforces, travel and entertainment. With the SAP HANA platform, the possibilities to innovate new business models around Concur and the network are limitless."
Concur's CEO, Steve Singh, said:
"SAP's 'Run Simple' philosophy aligns well with our desire to deliver effortless solutions that help you to focus on what matters, the success of your business."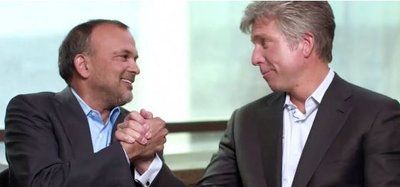 Concur's CEO Steve Singh (left) and SAP's CEO Bill Mcdermott (right)
Concur Technologies Inc. has over 23,000 customers, 4,200 workers and twenty-five million active users in more than 150 countries. It is the leading company in the market for travel and expense management software, says SAP.
Together with Concur, SAP will transact more than $600 billion per year, "deliver frictionless commerce across more than 25 different industries and address annual corporate travel spend of US$1.2 trillion worldwide," SAP wrote.
The transaction was unanimously approved by Concur's Board of Directors. The takeover is expected to be completed either in Q4 2014 or Q1 2015, subject to regulatory and shareholder approval.
Shift from on-site software to cloud computing
SAP, like other software businesses, is buying its way into the rapidly-expanding "cloud computing" sector. Concur provides the software that helps firms manage their employees expense and travel accounts through the Internet.
Concur's software, which is used by Elizabeth Arden, Google, Hess, and Kellog, can book flights and submit/approve expenses online (even using mobile phones).
The vast majority of SAP's software, however, is still integrated directly into companies' computer systems. Corporate customers are shifting to cloud in droves.

SAP desperately needs Concur's cloud computing software
Cloud software companies have been expanding much more rapidly than on-premises software sellers. Customers prefer cloud computing because of the lower up-front cost of integration and ease of updates.
In Fiscal 2013, Concur posted a loss of $24.4 million and revenue of $546 million. The company expects a 24% increase in revenue for fiscal year ending September 2015, while SAP's is forecast to rise by just 7%.
Fierce rivals SAP and Oracle are struggling to gain cloud computing market share. Larry Ellison today stepped down as Oracle's CEO, making way for Safra Catz and Mark Hurd who will share the post. Oracle has spent over $50 billion on takeovers.
Since 2010, SAP has spent over $13 billion acquiring providers of Web-delivered software. It bought Ariba Inc. for $4.5 billion and Success Factors Inc. for $3.5 billion. In March this year it acquired Fieldglass, a vendor of management systems with a cloud-based technology used to manage independent contractors.
SAP AG is based in Walldorf, Baden-Württemberg, Germany. It employs more than 65,000 workers globally.