After thirty-seven years at the helm, the fifth richest person on the planet Larry Ellison steps down as Oracle CEO. Mr. Ellison will become Chairman and Chief Technology Officer, i.e. he will still have a major influence in the company but won't have the top job any more.
The multinational computer technology corporation says that its board promoted Mark Hurd and Safra Catz to the position of CEO.
Safra Catz is now in charge of legal functions, finance and all manufacturing.
Mark Hurd is now head of all sales, service and vertical industry global business units.
Larry Ellison is in charge of all software and hardware engineering functions.
Mr. Ellison said:
"Safra and Mark will now report to the Oracle Board rather than to me," said Larry Ellison. "All the other reporting relationships will remain unchanged. The three of us have been working well together for the last several years, and we plan to continue working together for the foreseeable future. Keeping this management team in place has always been a top priority of mine."
Oracle Board's Presiding Director, Dr. Michael Boskin, said:
"Larry has made it very clear that he wants to keep working full time and focus his energy on product engineering, technology development and strategy. Safra and Mark are exceptional executives who have repeatedly demonstrated their ability to lead, manage and grow the company. The Directors are thrilled that the best senior executive team in the industry will continue to move the company forward into a bright future."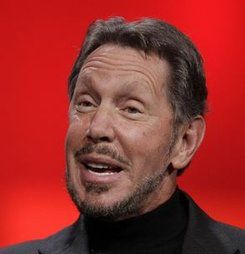 Larry Ellison is the world's fifth-richest person.
Oracle was founded by three guys
Oracle was founded by Larry Ellison, Bob Miner and Ed Oates.
Mr. Ellison says he was inspired by a paper published in 1970 titled "A Relational Model of Data for Large Shared Data Banks," and written by Edgar F. Codd.
Ed Oakes had shown Ellison an article in the IBM Research Journal about the IBM System R database. He wanted to make Oracle's product compatible with System R, but IBM made this impossible by keeping the error codes for their DBMS secret.
In 1977, Ellison, Oates and Miner founded Oracle Corporation under the name Software Development Laboratories (SDL).
The name was changed to Relational Software Inc. in 1979, and then to Oracle Systems Corporation in 1982, to align itself more closely with its major product Oracle Database. Miner was the company's senior programmer at this time.
The company name changed to Oracle Corporation in 1995. The official name of the company today is Oracle, but is sometimes referred to as Oracle Corporation, which is the name of the holding company.
Oracle is based at Redwood City, California. It employs more than 122,000 people worldwide.