With the Scottish No vote posting 55% and the Yes camp 45% in the Independence/Union Referendum, the future of the United Kingdom is secure for now. The result sent the pound shooting up in Asian markets.
The majority of people in England, Wales and Northern Ireland (the rest of the UK) breathed a sigh of relief this morning in the knowledge that the country remains together and stronger for it, and that our Union Flag (also known as the Union Jack) will not have to be altered.
Many governments around the globe also sighed in relief, fearing a disintegrating country would fuel separatist movements elsewhere. There was also worry that a 'Yes' vote would have transformed the UK into a weaker nation, and a less focused ally.
The pound soared, the moment it became clear the country had voted to stay in the UK, to a 2-week high against the dollar and a two-year high against the euro.
Pound up against euro and dollar
In early trade in Asian markets, the pound sterling rose 0.43% to €1.2743 and 0.8% to $1.6525.
Investors' eyes will be on the London Stock Exchange today, where the FTSE is expected to perform strongly when markets open.
Since the beginning of September, the pound has declined because of fears that Scotland might vote to leave the United Kingdom. There was concern that a "Yes" vote would have triggered a massive sell off. Markets can now go back to focusing on the fundamentals of the country's economy.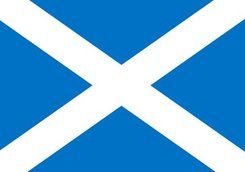 Scotland chooses to remain in the United Kingdom.
Watch out for shares in Scottish-related UK companies, such as the Royal Bank of Scotland, Lloyds Banking Group, Aberdeen Asset Management and Standard Life – they will shoot up today. Shareholders in these companies will be relieved that management will not have to make arrangements to move to London, and can now concentrate again on business performance.
The BBC quoted Martin Gilbert, Aberdeen Asset Management's CEO, who said "Scotland has long been a world leader in business sectors such as oil and gas, whisky and investment and the task now is to grow the rest of the economy with the strong support of politicians of all parties."
Reaction from politicians, business leaders and celebrities
Scotland's First Minister Alex Salmond (head of the Independence movement):
"Let us not dwell on the distance we have fallen short. Let us dwell on the distance we have travelled and have confidence that the movement will take this nation forward as one nation."
"It is important to say that our referendum was an agreed and consented process and Scotland has, by a majority, decided not at this stage to become an independent country. And I accept that verdict of the people. And I call on all of Scotland to follow suit in accepting the democratic verdict of the people of Scotland."
UK Prime Minister David Cameron:
"The people of Scotland have spoken. It is a clear result. They have kept our country of four
Alistair Darling, leader of Better Together:
"We've taken on the argument and we've won. The silent have spoken."
UK Deputy Prime Minister Nick Clegg:
"I'm absolutely delighted the Scottish people have taken this momentous decision to safeguard our family of nations for future generations."
Leader of the UK's Labour Party (leader of the opposition): leader Ed Miliband:
"Our UK is stronger today than it was yesterday."
Director General of the (UK) Institute of Directors, Simon Walker:
"There can be no doubt that many businesses will breathe a sigh of relief."
Harry Potter author, J. K. Rowling (A pro-union Scot):
"Been up all night watching Scotland make history. A huge turnout, a peaceful democratic process: we should be proud."
Martin Gilbert, chief executive of Aberdeen Asset Management:
"The campaigning is over and UK investors will welcome a reduction in the uncertainty of recent months. Tomorrow attention will turn again to the situation in Ukraine, the conflict in the middle east and the fragile European economy."
Standard Life (a Scotland-based insurance company):

"We fully respect the decision of the Scottish people. We recognise that further constitutional change is very likely following the clear result of the referendum. We will consider the implications of any changes for our customers and other stakeholders in our business to ensure their interests are represented and protected. As a large company based in Scotland, Standard Life is ready to contribute to this process."
CBI (Confederation of British Industry) Director-General, John Cridland:
"This is a momentous day for our United Kingdom and this result will be greeted by a collective sigh of relief across the business community. Business has always believed that the Union is best for creating jobs, raising growth and improving living standards, and welcomes that the people of Scotland want to play an integral role in this internationally successful partnership."
"As the debate now moves to the question of further devolution, it is important that it does not undermine the strength of the single internal market and it is in the best interests of citizens living in England, Wales and Northern Ireland, as well as those in Scotland."
The Royal Bank of Scotland:
"The announcement we made about moving our registered head office to England was part of a contingency plan to ensure certainty and stability for our customers, staff and shareholders should there be a 'Yes' vote. That contingency plan is no longer required. Following the result it is business as usual for all our customers across the UK and RBS."