Montreal-based dairy company Saputo Inc. says it has agreed with Grupo Bimbo SAB de CV to sell its bakery unit Saputo Bakery Inc. for $120 million on a debt-free basis cash deal.
The purchaser will be Mexican baking giant Grupo Bimbo's subsidiary Canada Bread Company Limited.
The transaction is expected to be completed in February 2015, presuming there is approval from the Canadian Competition Bureau.
Saputo Bakery markets and distributes principally snack-cakes in Canada, which are sold nearly exclusively in the retail market. It is Canada's largest snack-cake manufacturer, and also sells in the US on a smaller scale.
The Bakery Division has one manufacturing facility in Quebec and employs 642 workers. In fiscal 2014, it posted revenues of about $139 million, i.e. 2% of Saputo's consolidated revenues.
Canada Bread Company Limited has its headquarters in Etobicoke, Ontario. It operates 16 bakeries and employs about 3,800 workers across the country.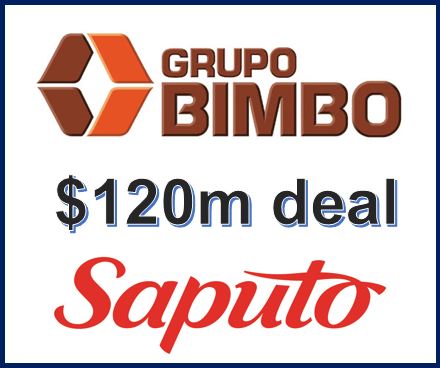 Grupo Bimbo through Canada Bread said that as a result of due diligence it completed, Saputo Bakery is expected to general sales of over $130 annually.
About Grupo Bimbo
Grupo Bimbo is based in Mexico City. It operates throughout the whole of the Americas, as well as in Europe and Asia. It is the biggest baking company in the world both in terms of volume and sales.
Last year, it posted sales of $13.785 billion.
It produces more than 10,000 different products under over 100 household brands, including Ricolino, Sara Lee, Arnold, Tia Rosa, Silueta, McGavin's, Marinela, and El Globo.
The company has more than 128,000 associates and operates 39 plants in Mexico and 130 abroad. Its products are sold in over 2.3 million points of sales in 21 nations.
Grupo Bimbo employs about 130,000 workers.