The US shale gas revolution is being held back by a lack of pipeline infrastructure, says a new report by law firm White & Case LLP.
If the US is really serious about the shale gas revolution, wants to change the nation's energy outlook, create new jobs, see a manufacturing renaissance, and achieve energy independence, considerable pipeline infrastructure investment will be needed.
White & Case partner Daniel Hagan said:
"The United States has a golden opportunity to become a powerhouse in global energy markets, to truly achieve full energy independence and to use natural gas to power our economy. But that path is far from assured without a major expansion of the long-distance pipeline network."
Shale gas, a boon for the United States
Not that long ago, the US found more oil and gas in new and remote production centers, such as the Bakken formations in North Dakota, than during all is history. Recent technological advances in extraction have made huge US shale resources economically extractable.
The price of shale oil, which is pegged to prices on the world market, is high today, and the US is sitting on recoverable reserves second in volume only to Russia's.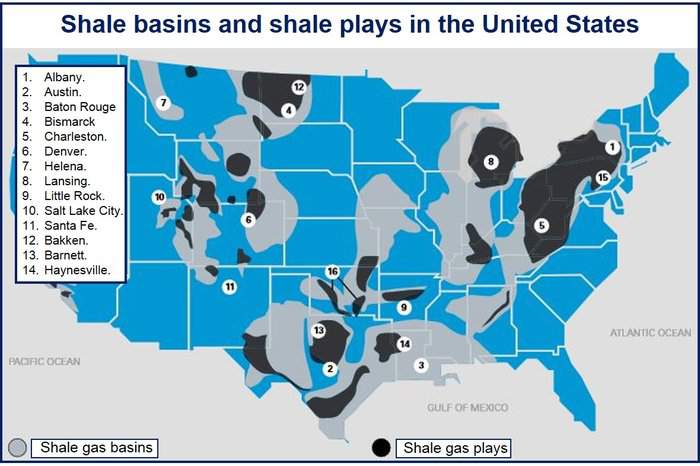 (Source: White & Case)
The huge potential for US shale gas is demonstrated by the effect of increasing domestic supplies on net imports of gas into the US, which are at their lowest levels since 1995. The EIA (Energy Information Administration) predicts that this trend will continue, with imports eventually falling to just 4% of domestic consumption by 2040.
According to the Boston Consulting Group, the US has become a world leader in manufacturing cost competitiveness, partly because of falling energy costs – one of the benefits of shale gas production.
Why did pipeline construction lag behind the Shale gas revolution?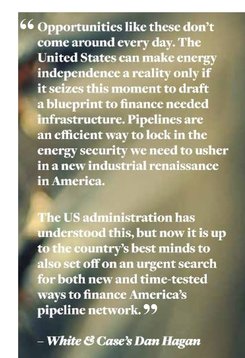 The report authors examined why the United States is unable to transport all of its available oil and gas to consumers. They also looked into why investors have been so slow to support the development of additional pipeline infrastructure.
According to the report, there are four ways critical infrastructure could be developed more rapidly:
Encouraging investment – investing in pipelines and financing their installation must be made more attractive. Adding revenue streams from pipeline systems is one possibility. There is pending legislation before Congress regarding this.
Speeding up LNG (liquefied natural gas) export authorizations – exploiting world demand for LNG is vital for encouraging investment in pipeline infrastructure.
A national energy strategy – to kick-start a major pipeline expansion program.
Improving gas-electric coordination – electric and gas power companies need better coordination.
The authors offer two case studies:
First case study: how the Rockies Express Pipeline is facing challenges which are typical when repurposing existing infrastructure to take advantage of new shale gas resources. The report explains what the company is doing to overcome the difficulties.
Second case study – the authors review how North Dakota is finding ways of dealing with wasteful gas flaring, a bi-product of shale gas extraction.