Even though Twitter Q1 2014 results boasted revenue increasing by 119% compared to Q1 2013, and its monthly active user base grew 5.8% versus the previous quarter, Wall Street was not impressed and shares fell about 10% in after-hours trading. When Twitter released its Q4 2013 results, shares also tumbled.

From Q4 2013 to the end of Q1 2014 the number of Twitter users who logged in at least once a month (monthly active users) increased from 241 million to 255 million, breaking four successive quarters of declining growth.
Analysts had forecast a larger increase in active monthly users – at least 6.6% versus 5.8%. Even though revenue had gone up, investors felt user growth should have accelerated much faster.
Dick Costolo, CEO of Twitter, said:
"We had a very strong first quarter. Revenue growth accelerated on a year over year basis fueled by increased engagement and user growth. We also continue to rapidly increase our reach and scale. With the integration of MoPub, we now reach more than 1 billion iOS and Android users each month, making us one of the largest in-app mobile ad exchanges in the world and the only one at scale to offer native in-app advertising."
Twitter failing to pull in mainstream users in large numbers
Twitter number trends are an enigma – while popular with famous organizations and well known political leaders, the social communication platform does not seem to be able to pull in mainstream users at the rate some other social networks are doing, such as WhatsApp.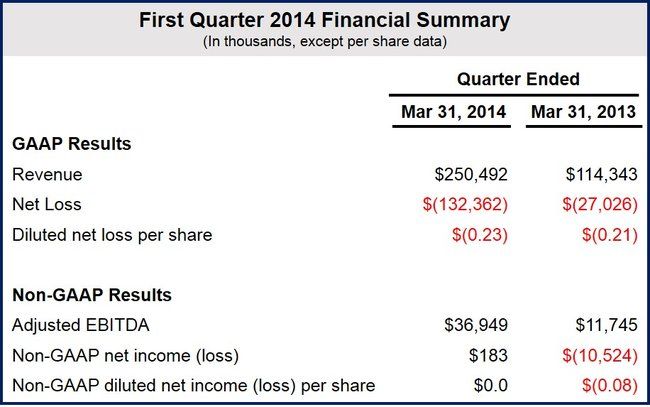 (Source: Twitter)
Twitter has a long way to go before it can convince Wall Street that it has the potential to become a massive advertising powerhouse.
The company has managed to boost its advertising revenue recently by improving its ad targeting and rolling out a range of new advertising formats. However, as Yoree Koh writes in the Wall St Journal "..it has struggled to make its service simpler and more appealing to the average Internet user."
Twitter Q1 2014 results report a growing loss
Despite increasing revenue from $114.3 million in Q1 2013 to $250.5 million in Q1 2014, its loss grew to $132.4 million (23 cents per share) in Q1 2014 versus a loss of $27 million (21 cents a share) in Q4 2013. The profit, excluding items, was less than 1 cent per share compared to 8 cents per share one year ago.
In 2013, Twitter's share of global mobile advertising increased to 2.4%, compared to 1.5% in 2012. Not that impressive when one compares it to Facebook's leap from 5.4% to 17.5%.