US GDP growth slowed sharply in the first quarter of 2014 to an annual rate of 0.1%, compared to 2.6% in the previous quarter, according to figures published by the Bureau of Economic Analysis, part of the US Department of Commerce. It was the slowest quarterly growth since Q4 2012.
Economists have been warning for a couple of months that indicators were pointing to a slow first quarter for 2014.
The Commerce Department said the steep fall in economic growth was caused by:
Poor exports (however, imports, which are a subtraction in the GDP calculation, also declined). Lower trade reduced GDP growth by 0.83 percentage point.
Low private inventory investment. In Q1 2014, business restocked their inventories to the tune of just $87.4 billion compared to $111.7 billion during the previous quarter. The restocking slowdown reduced GDP growth by 0.57 percentage point.
Low non-residential fixed investment.
Reduced state and government spending.
Abnormally harsh winter weather. The Commerce Department gave no details on the impact of the bad weather. Economists estimated it could have reduced GDP growth by up to 1.4 percentage points.
Personal consumption and some federal spending increased, but not enough to offset the negative contributions listed above.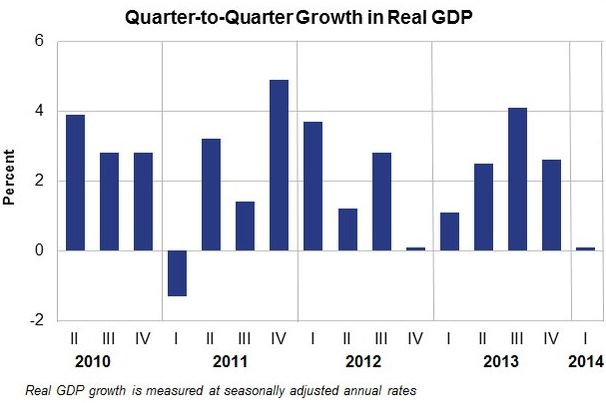 (Source: Bureau of Economic Analysis, US Dept. of Commerce.)
US GDP growth slowed but is rebounding
Even though exports fell and businesses accumulated stocks at a year-record low, the Commerce Department says activity appears to be rebounding.
The prices Americans paid for goods and services (Price Index for Gross Domestic Purchases) rose 1.4% in Q1 2014, compared to 1.5% in Q4 2013. Excluding energy and food prices, the price index for gross domestic purchases was 1.4% higher in Q1 2014 versus 1.8% in the previous quarter.
There was a 3% increase in real personal consumption expenditures in Q1 2014 compared to a 3.3% in Q4 2013. Durable goods rose 0.8% (2.8% previous quarter), nondurable goods increased by 0.1% (2.9% previous quarter), while services rose 4.4% (3.5% previous quarter).
Consumer spending accounts for over two-thirds of US economic activity. The first quarter increase reflected higher heating demand in the winter plus the Affordable Healthcare Act, in which a larger number of Americans received health care coverage.
In Q1 2014, nonresidential fixed investment fell 2.1% compared to 5.7% in the previous quarter. Nonresidential structures rose 0.2% (minus 1.8% previous quarter), equipment fell 5.5% (10.9% increase in previous quarter).
Intellectual property products in Q1 2014 rose 1.5% versus 4% in Q4 2013. Real residential fixed investment fell 5.7% compared to a 7.9% fall during the previous quarter.
Q1 2014 saw a 7.6% fall in the real exports of goods and services, after rising by 9.5% in Q4 2013. Real imports of goods and services fell 1.4% versus a 1.5% rise in the previous quarter. Q1 2014's exports decline was the largest in five years.
How much did bad weather affect trade?
Forbes quoted Steve Blitz, chief economist at ITG Investment Research, who agreed that the rest of 2014 will probably be stronger, but wondered how much the bad weather affected trade.
Blitz wrote "Looking through the rest of the report we see the cold hand of winter, although I am not sure to what extent the cold in the Midwest caused the level of exports to drop by $40.5 billion while imports only dropped $8.8 billion. Surely the supply chains weren't frozen in only one direction."
Will construction activity and inflation influence the Federal Reserve?
The bad weather was blamed for the contraction in home building activity, as well as a rise in mortgage rates over the past 12 months.
With home building contracting for two months running, economists are now wondering whether there is a housing recession, a development which may concern the Federal Reserve (Fed). Most analysts, however, expect activity to recover during the second quarter.
The Fed is concluding a two-day meeting. The Q1 2014 GDP numbers are unlikely to have a major influence on policy, given that growth is expected to pick up.
Inflation, however, is being closely monitored, as it is in the Eurozone and Japan. Long-term low inflation could change the Fed's timing of the wind down in its bond-buying stimulus program this year. It could also influence its decisions on benchmark interest rates.