The struggling Japanese economy is to receive a 28 trillion yen (£200bn or $265bn) package in the hope of kick-starting business and manufacturing activity, Prime Minister Shinzo Abe announced. The Japanese economy has been struggling for decades – pulled down by persistent stagflation – despite dozens of attempted programmes.
Mr. Abe, whose economic stimulus plans are today known as Abenomics – a modern version of Keynesian Economics – are beginning to work, according to the Japanese government. Most economists are doubtful.
The new stimulus programme had been expected ever since Brexit – Britain Exiting the European Union- became a reality. On 23rd June this year, Britons voted by a narrow margin in a referendum to leave the European Union.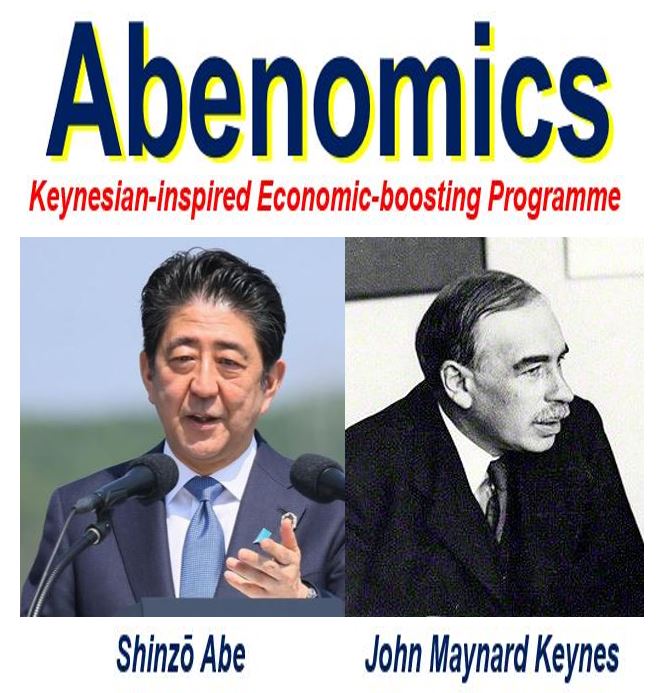 Keynes said that when the economy is bad people do not want to spend. When this happens the government should spend more by borrowing money. This creates jobs, confidence and encourages people to spend more again. When people spend more, economic growth is back on track. Abenomics is based on Keynesian economics. (Images: Left – Japanese Government. Right – Wikipedia)
The Brexit vote has had a significantly negative effect on the economic outlook for the UK economy, with a strong ripple-effect across the whole European Union, and consequently the rest of the world.
Mr. Abe had warned of the undesirable effect the Brexit vote might have on his country's economy. However, the size of the package his government will introduce is considerable greater than earlier estimates.
---
---
Bloomberg Markets quoted Daiju Aoki, an economist at UBS Group AG, who said:
"Abe is definitely putting pressure on the BOJ. The announcement of the economic package will make it even more difficult for the BOJ not to act at this meeting."
The Tokyo Stock exchange, also called Tōshō (東証) or TSE for short, responded with strong gains on the news. However, economists in Japan and abroad are doubtful about its effects – many predict it will not have any real impact.
According to the Japanese Government, Abenomics is working and the country is on target to halve its primary deficit-to-GDP ration. Most economists are not convinced. (Image: japan.go.jp)
Full details of the programme, which are not expected to impact the economy immediately, will be released next week, according to the Japanese government.
Japanese media sources say that nearly half of all the injected money will include spending by national and local governments. Several major infrastructure projects will probably be announced. These types of projects do not affect economic growth straight away. They typically help long-term economic activity and productivity.
---
---
Getting consumers to spend more
For more than twenty years, Japan has been stuck in an economic twilight zone of low prices and wage growth. For a country where consumer spending accounts for sixty percent of the economy, this has meant either extremely low or zero GDP (gross domestic product) growth.
The average Japanese consumer feels nervous about his or her financial future, and because of this is reluctant to spend much.
Consumer apprehension still exists, despite three years of Abenomics.
What is Abenomics
Abenomics is a term used to describe Mr. Abe's economic policies, which were inspired by Maynard Keynes (1883-1946), a British economist whose ideas fundamentally changed the theory and practice of macroeconomics and the economic policies of the UK government and those of many countries across the world.
Put simply, Abenomics – a portmanteau (linguistic blend of words) of Abe and economics – says that strict monetary policies can address Japan's persistent deflationary problem.
Abenomics aims to increase Japan's GDP and push annual inflation up to 2%.
According to The Economist, Abenomics is a "mix of reflation, government spending and a growth strategy designed to jolt the economy out of suspended animation that has gripped it for more than two decades."
Mr. Abe believes that his country's economic problems stem from the central bank's reluctance to properly implement unconventional monetary policies. Since becoming Prime Minister, the Bank of Japan has started to embrace these policies.
Abenomics is based on a three-pronged arrow approach:
– Dramatically expansive monetary policy.
– Fiscal stimulus.
– Structural reforms to achieve better economic growth in the longer term.
Mr. Abe says that by increasing the money supply and making Japan more competitive through encouraging private investment, the country's economy can pick up again.
Initially, additional currency was printed – between 60tn and 70tn yen – which made Japanese exports more attractive, while reforms helped make Japanese industries more competitive. Examples of reforms included modernising the agricultural sector, making it easier to lay off workers, and restructuring the pharmaceutical and utility industries.
Abenomics so far
Abenomics has failed to get consumers to really start spending again. Even a controversial move at the beginning of this year to push interest rates below zero by the central bank failed to kick-start the economy or get people to spend significantly more.
Japan's problems are far greater and more complicated than its government is willing to admit, many economists say. They believe Mr. Abe needs to push through some very tough reforms, like getting more women into the workforce and accepting a much greater number of foreign workers.
The Bank of Japan holds its monetary policy this week. Analysts are expending its monetary policy committee to push interest rates even further below zero.
Yuki Masujima, who works at Bloomberg Intelligence, wrote that a headline figure of 28tn yen "would likely include spending that has already been announced, unfunded commitments and spending that will be spread out over a number of years."
50-year bonds?
A report by the Wall Street Journal that Japan was considering issuing 40- or 50-year bonds was immediately denied by the Ministry of Finance. If the Bank of Japan were to purchase and hold such debt, it would be evidence of a further commitment towards outright financing of spending.
The bond rumour, plus Mr. Abe's announcement of a larger-than-expected spending programme was enough to push the yen down by over 1% against the dollar today.
Reuters quoted Commerzbank currency strategist Thu Lan Nguyen as saying:
"We have had a lot of volatility driven by the different reports this morning. The moves show that the bigger issue for the market is how this programme is going to be financed. So far it looks like the Bank of Japan is not ready to do something new and that leaves the potential for more downside for the dollar before the meeting on Friday."
The one-percent-plus slide of the Japanese currency in Asian trading turned slightly when the Ministry of Finance denied the bond issue rumour. In morning trade in London the yen was down on the day by just 0.8% at 105.51 to the dollar.
Video – What is Abenomics?
This 2013 Financial Times video looks at the main features of Abenomics.