Bombardier Recreational Products Inc. (BRP), the maker Sea-Doo watercrafts and Ski-Doo snowmobiles, posted lower third-quarter profit (net income), partly because the declining ruble has made its products too expensive for Russian consumers.
Revenue for the third quarter of fiscal 2015 (ending Oct 31) increased by 6% or $52 million to $918 million, compared to $866 million in Q3 last year. However, net income fell to $37 million from $48 million.
A strong euro and dollar helped sales of some products, including the Sea-Doo personal watercraft and Can-Am wheeled vehicles. However, sales of its snowmobiles were down because of weak demand from Russia.
President and CEO José Boisjoli said:
"Earlier this year, we identified a currency risk in Russia and the situation has deteriorated significantly with a steep decline in the value of the ruble since the end of October. The outcome is higher costs for imported products and this affects our distributor's sales to consumers."
"With six weeks remaining before the end of the fiscal year, we are adjusting our guidance to reflect the potential financial impact. I am nevertheless pleased with our results because the other main drivers of our earlier guidance are largely unchanged and this speaks volumes about the quality of our execution."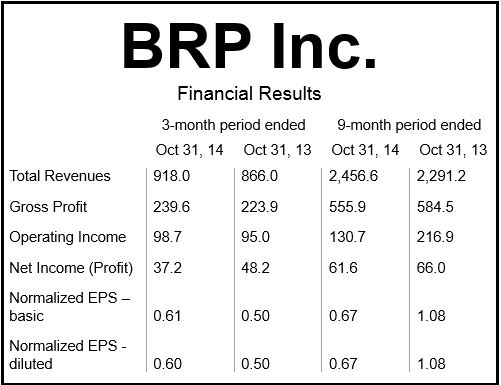 Source: "BRP Reports Third-Quarter Results for Fiscal Year 2015."
For the nine-month period ending in October 31, 2014, revenues grew by $165.4 million or 7.2% to $2,456.6 million, versus $2,291.2 million in the same period in 2013. Net income fell to $61.6 million for the first nine months ending October 31, 2014, compared to $66 million for the same period last year.
The company lowered its revenue growth guidance to 8% to 12% for this full year, compared to its previous 13% prediction.
BRP Inc. is based in Valcourt, Quebec. It used to be part of Bombardier Inc., which sold it to a group of investors in 2003.
The company employs about 7,100 workers and has divisions in Canada, Mexico, the United States, Austria and Finland. Its products are sold in more than 80 countries.