Home prices in Canada declined by 0.3% in November versus October, according to the Teranet-National Bank Composite House Price Index published on Friday. It was the first month to post a fall in one year.
The Index, which measures how much the prices of repeat sales of single-family dwelling change by, showed however that prices in November were 5.2% higher than in November 2013.
Most analysts do not believe November's decline is a sign of things to come, given that employment is expected to increase and interest rates are at record lows and will likely continue to stay there for the next few months.
Most best are on an interest rate hike well into the second half of 2015.
Canada, unlike the US, Mexico and most of Europe, did not experience a housing crash following the global financial crisis. Home prices have risen persistently since 2009, despite tighter mortgage lending regulations imposed by the Government.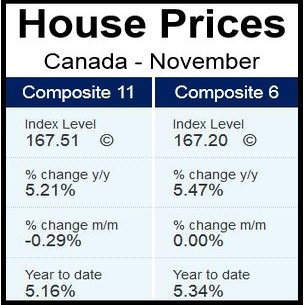 Source: "Teranet – National Bank National Composite House Price Index."
According to the latest Index, prices in November versus October fell in eight out of 11 cities.
Victoria, Calgary and Victoria posted a -0.3% drop, Ottawa -0.6%, Winnipeg -0.7%, Montreal -1%, Quebec City -1.5%, and Halifax -1.6%.
In Edmonton prices rose by +1.1%, while in Hamilton and Vancouver they remained unchanged.
Compared to November 2013, prices gained in 8 of the 11 cities. In Montreal by +0.6% , Victoria +1.4%, Calgary +1.4%, Winnipeg +1.5%, Vancouver +5.9%, Edmonton +6.2%, Toronto +7.3%, and Hamilton +7%.
Year-on-year, prices dropped by -0.2% in Ottawa, -0.3% in Quebec City, and -1.8% in Halifax.