It has been almost five years since the last recession hit the US. The economy is thriving and things are getting back to their usual state. But who knows how long this is going to last. Since the Great Depression there have been 13 recessions in the US alone. This is approximately one in every six years.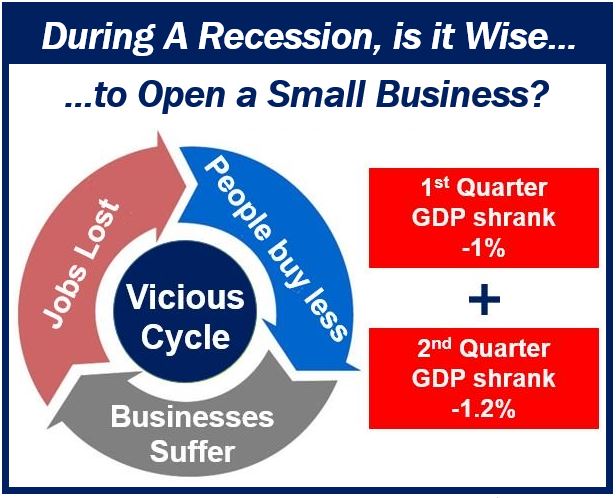 Not really a favorable number if you ask me.
This leaves a lot of uncertainty when it comes to opening a small business. Many people feel undetermined to start anything in such a shaky climate. However, there are certain businesses that can endure and have proven to do so even during a recession.
Let's count them down and see which ones are the most favorable.
Movie Theaters
This one might come as a shocker, but the fact remains that people don't want to be depressed, even if the situation around them is bad. Going to a theater has proven to be a way for taking things off your mind. Going to a place where you can watch someone else's drama and not think about yours has proven to help.
The movie industry actually had its heyday during the Great Depression so it would make sense that during another recession people would still want to go. Some entertainment at a very low cost can do wonders.
Funeral Flowers
It is traditional to put some flowers on a grave for a person that has passed away. Not just in the UK but in most cultures as well. Thus selling funeral flowers is a good way to go about and start a business.
A great example would be with the owner of Funeral Flowers from London who was out of a job during the 2008 recession. However, his wife had her own flower shop during that time which was not doing so well. So they decided to transform it and sell funeral flowers only. Business is booming even today and it just helps to show how a good idea can turn things around even during a recession period.
Tattoo Parlor
Who would want to get a tattoo during a recession? Well as it happens, a lot of people do. During 2008 around 14% of people in the US had a tattoo. That number jumped to 21% in a period of four years. It just goes on to say that people still want to do this kind of a thing and express themselves. This feeling gets particularly high during the recession period so a Tattoo Parlor is a good business model to start.
Candy
The most popular candies ever made were produced during the Great Depression. In recent times, the consumption of candy has doubled and people like to indulge themselves especially the ones with a sweet tooth.
Candy is also a good way to help one feel better. Getting out of a slump can be much easier if you have a piece of chocolate close at hand. That is why selling any kind of candy during this period will prove to be boastful.
Tax Accounting
One might think that cutting down on certain expenses during a recession is a good idea. Doing taxes by yourself is possible. However, during times of need, one needs to be careful and wary of any small mistake that might occur.
The usage of tax accounting firms rose during the last recession. Businesses didn't want to take risks during this period and lose even more than they had to. Thus opening a tax accounting firm that can do the tax, especially for a certain company is a good idea.
_________________________________________________________________
Interesting related article: "What is a Startup?"