Astronauts may soon be wearing Smart Glasses in space, if tests to be carried out by NASA and Osterhout Design Group (ODG) prove successful. They plan to explore Smart Glasses usage for both space-based and terrestrial activities.
The US space agency and the San Francisco-based firm will collaborate to evaluate the use of VR (Virtual Reality) and AR (Augmented Reality) in human spaceflight. The ultimate aim is to eventually deploy ODG's technology on NASA space missions, the company wrote.
Most advanced mobile AR devices
According to ODG, its glasses are the most advanced, robust and mobile AR devices available today. The company has spent the past six year developing smart glasses, working with corporate partners and government customers to build, refine and advance its technology.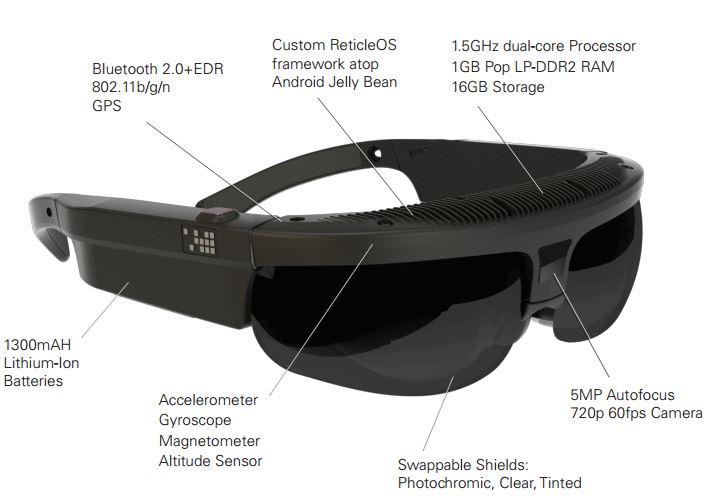 With the smart glasses, you can to everything you do with a tablet in a true, hands free format. It has 3D graphics overlaid.
Equipped with state-of-the-art positional sensors, the device knows where the users are, where they are looking, and how they are moving, thus enabling accurate AR and exciting VR experiences, even in the most demanding environments.
The smart glasses, which integrate military-grade technology, will run on Google's Android Jelly Bean software, as well as ODG's ReticleOS operating system.
Like looking at a 55-inch screen
The image projected from the device appears to the user as equivalent of looking at a 55-inch screen from eight feet away.
ODG wrote:
"A potential early use for the ODG Glasses by NASA is 'Assisted Reality' software that enables line of sight check lists, guided support via telepresence, and the ability to overlay digital markers on machinery or equipment while keeping the user's eyes and hands focused on their task."
ODG believes its technology can enhance astronauts' accuracy and efficiency during spaceflight, something that is becoming increasingly more important as the space agency takes on longer-lasting space missions.
Such software is already used by several of ODG customers in the energy, utilities and medical sectors, the company says, adding it is excited to explore its use with NASA.
Lauri Hansen, Engineering Director at NASA Johnson Space Center, said:
"As electronic directions and instructions replace paper checklists and longer duration missions are considered, there is a need for tools that can meet evolving demands."
"ODG's technology provides an opportunity to increase space mission efficiencies and we are pleased to explore its potential in human spaceflight while also advancing its use here on earth."
Dramatically changing how we explore information
Ralph Osterhout, Founder and CEO of ODG, said:
"ODG's Smart Glasses are revolutionizing the way we explore information and interact with our environments and each other."
"ODG and NASA share an unwavering commitment to advance technology and today's announcement is a vote of confidence in the power, promise, and possibility of headworn augmented reality technology."
Virtual reality different from augmented reality
Virtual reality and augmented reality are very different technologies.
Virtual reality creates a pretend place, a wonderland, or a virtual environment. Users enter the pretend place and do things, i.e., they can interact. For users, virtual reality feels real.
Augmented reality, on the other hand, provides users with information about things in front of them, i.e., their natural world.
ODG Video – 3D AR Smart Glasses