S&P raised Spain's rating to BBB from BBB- after the country showed signs of faster economic growth and fiscal consolidation. The outlook for the rating is stable. It is the third major credit agency (Fitch and Moody's) to raise the country's rating this year.
BBB is two notches above junk status, as opposed to just one notch, which was its status before.
S&P has rated Spain the same as Moody's Investor Service did in February. Fitch Ratings raised Spain's status in April to BBB+, a notch above the other two credit rating agencies.
Spain's GDP growth likely to pick up
S&P (Standard & Poor's) believes that Spain's average GDP growth will probably start gathering pace over the next three years more rapidly than previous estimates. The ECB (European Central Bank) is also likely to carry on pursuing a highly accommodative monetary policy.
S&P forecasts Spain's GDP to grow by 1.6% annually for the next three years, compared to a previous prediction of 1.2%.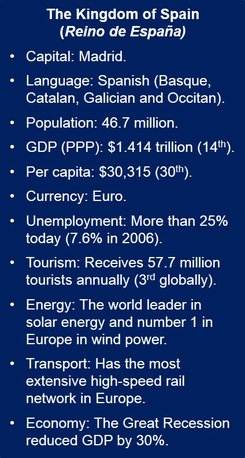 The Spanish economy is finally coming out of a six-year-long downturn. Its GDP has grown for three months running. According to Eurostat, Spain's Q1 2014 GDP growth rate was 1.6% (annualized), twice the Eurozone average.
Gradual recovery in employment predicted
S&P believes Spain's gradual recovery in job creation will contribute to the country's fiscal position and stem the increase in bad debts in the banking system. It predicts that economic growth will be driven by exports, but also cautions that the very high levels of debt in the economy will probably keep domestic demand weak for a long time "as companies and households attempt to reduce leverage."
According to S&P (login required):
"(The higher rating) reflects our view of improving economic growth and competitiveness as a result of Spain's structural reform efforts since 2010, including the 2012 labor reforms."
Spanish unit labor costs have declined by 8% over the last five years, the third steepest fall in the Eurozone, after Ireland and Greece.
Raised rating will help debt control
Spain's rapidly-rising debt burden will be easier to control, now that its status has been raised. The country's public debt is set to exceed 100% of GNP in 2014, says a European Commission forecast, while its government deficit is predicted to reach 5.6% of GDP.
S&P added:
"We believe that Spain's recovering economy will support fiscal consolidation and enable public debt to gradually decline. We view stronger tax receipts so far in 2014 as indicating a cyclical improvement in the budgetary position."
Video – Spain's rating raised to BBB from BBB-