A WTO luxury car ruling regarding a complaint the US had made against China found "no basis" for duties imposed by Beijing between 2011 and 2013. The United States described the ruling as "a significant victory".
China had imposed tariffs on imported vehicles, including those manufactured by Chrysler and General Motors, such as the Jeep Grand Cherokee, Buick Enclave, Cadillac Escalade and many others. The duties were added after the automakers were bailed out by the US government during the financial crisis; they were lifted in December 2013. According to the World Trade Organization (WTO), the tariffs were "improperly imposed".
China had accused the US of dumping
Duties as high as 21.5% were slapped onto US-made sedans and SUVs (sports utility vehicles), claiming they had benefited unfairly from state subsidies and were being sold in China below market value, i.e. the US car industry was "dumping" cars in China.
At a press conference in Washington, U.S. Trade Representative Michael Froman said:
"It's time for China to change the practices that have led the United States and our trading partners to bring these kinds of cases."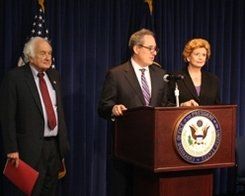 The ruling will heighten tensions between the world's two largest economies after the US accused give five military Chinese personnel of stealing corporate secrets from a wide range of American companies, including those involved in clean-energy products, credit-card payment services, tires and chicken parts.
China had said the imports harmed its own car industry
According to China, its market was being flooded with cheap luxury cars, which harmed its own car industry.
In 2012, the US filed a complaint with the WTO, which found that China failed to show how the imported cars harmed the Chinese market. The Geneva-based trade arbiter added that China did not inform the US carmakers on how the tariffs had been calculated.
Exports of vehicles from the US grew by 48% last year to $8.6 billion. After Canada, China is the largest foreign market for US vehicle manufacturers.
China also accused of subsidizing automotive products
The US filed a separate complaint to the WTO in September, 2012, alleging that the Chinese government subsidized its own auto parts and vehicles. That case is still being reviews.
This is the third recent victory for the US regarding alleged anti-dumping and anti-subsidy practices carried out by China. Previous ones were related to steel and poultry.
Ambassador Froman said:
"This is the third time that the United States has prevailed in a WTO dispute challenging China's unjustified use of trade remedies.  Each time, a WTO panel of experts has made clear that China had no basis whatsoever for imposing duties on American goods."
"The message is clear: China must follow the rules, just like other WTO Members.  USTR will keep pressing for China to change its trade remedies practices that unfairly restrict U.S. exports."
Senator Debbie Stabenow (D-MI) said the dispute is mainly about US jobs. She described the ruling as a major victory for US workers and carmakers and "another blow to China's illegal trade practices.
Senator Stabenow added:
"It is long past time China recognize that its repeated attempts to flout the rules will not be tolerated.   I want to thank the Obama administration for standing up to China and fighting against illegal trade practices to ensure that we continue to export our products, not our jobs. Strong enforcement actions like this one are essential to the ongoing resurgence of American manufacturing."
China, the world's largest dumping perpetrator
Senator Carl Levin (D-MI), who described China as the largest dumping perpetrator in the world, said it was "laughable" that China should claim that American vehicle exports were being sold at below-production costs, "when they are obviously not."
Senator Levin hopes there will be a renewed effort to open Chinese markets to US products and that the WTO will move swiftly to rule on the pending cases against China.
Will China appeal?
After WTO rulings, the losing party tends to appeal the decision. Sometimes both parties appeal, with the winner seeking to endorse its position more strongly. Since joining the WTO in 2001, China has had a track record of appealing in nearly every ruling that goes against it.
According to Chinese People's Daily, China's Ministry of Commerce said on Saturday that it has reservations about the WTO ruling. It quoted an official ("who did not give his name") who said:
"The Chinese side holds reservations about the panel's rulings on such issues as the calculation of dumping margins and price effects."
The Chinese newspaper adds that the WTO "is fully supportive of China in the definition of domestic industry and partially in favor of China in a few other issues."