Canadian inflation reached 2 percent (annualized) in April, after the Consumer Price Index (CPI) rose by 1.5% in March. Canada's April CPI was the highest in two years, according to Statistics Canada.
The Bank of Canada's annual inflation target is 2%. There has been talk about lowering interest rates or taking other quantitative easing measures to boost the CPI. Despite April's figures, inflation is still low when energy prices are excluded, and the central bank is unlikely to alter its current course.
Stephen Poloz, the Governor of the Bank of Canada, had flagged low inflation as one of the major challenges facing the economy.
In an interview with Reuters, Mark Chandler, a Royal Bank of Canada strategist said:
"They're not going to make a big change because they'll have to wait for the next forecast, which will be the following MPR (Monetary Policy Report) in July. So, it'll be a subtle shift, but they should start to talk about more balanced risks."
Canadian inflation driven by energy prices
All the figures below refer to inflation over a twelve-month period to April or March.
April's higher inflation rate was mainly driven by energy prices, which rose by 8.4% in April, after increasing by 4.6% in March.
April gasoline prices went up by 6.6%, compared to 1.4% in March. Gasoline prices rose more steeply in nine provinces, with the exception of Prince Edward.
Natural gas prices rose 26% in April, after rising by 17.9% in March. Natural gas price hikes in Ontario drove the national natural gas price increases.
Over the same period, electricity went up 4.6% and fuel oil prices rose by 9.3%.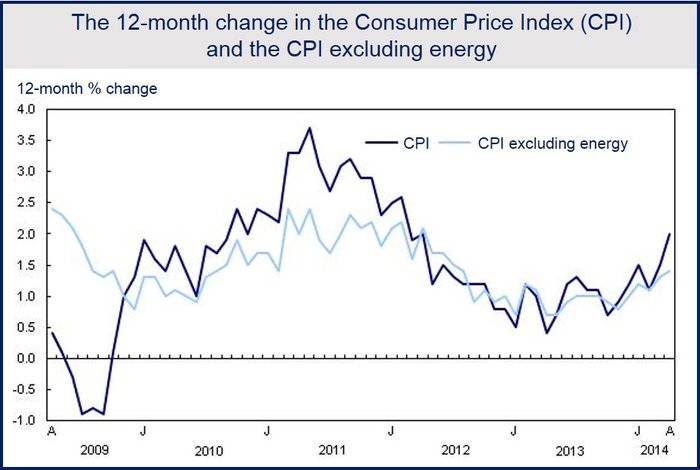 (Source: Statistics Canada)
Core inflation up in April
Canadian core inflation (excluding energy) reached 1.4% in April compared to 1.3% in March. According to economists, the core rate provides policymakers with a more realistic picture of how prices overall are moving.
Shelter prices increased 3.3% in April, after rising 2.7% in March. Consumers also paid more in property taxes.
The mortgage cost index rose 0.2% in April after falling by 0.6% in March. There had not been a year-over-year gain in mortgage interest costs since June 2009.
Transportation costs rose by 2.8% in April, compared to 1.7% in March. Passenger vehicles increased by 2.4% and vehicle insurance premiums by 2.4%.
Food rose by 1.9% in April, versus 1.5% in March. Food bought in stores increased by 1.7% in April, as they did in March. Meat rose by 4.5% in April versus 3.4% in March. Fresh fruit and vegetables also went up.
Food bought in restaurants increased by 2.1% in April compared to 1% in March.
British Columbia saw the largest increase in the annual rate, which rose from 0.1% in March to 1.5% in April. In Alberta, on the other hand, inflation fell from 3.9% in March to 2.7% in April.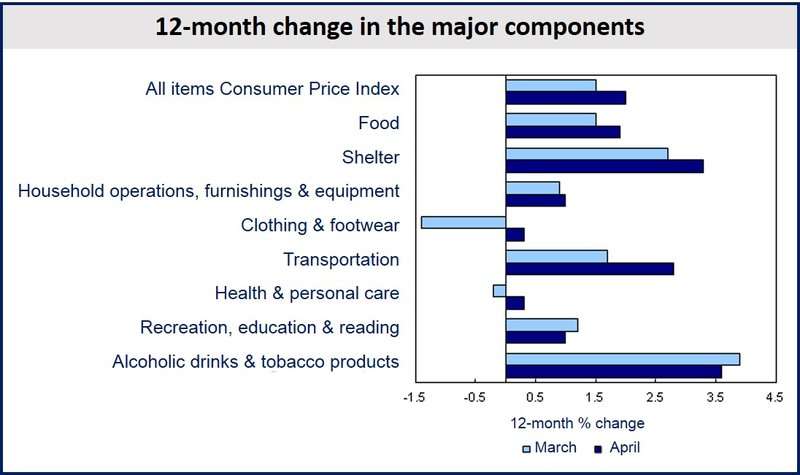 (Source: Statistics Canada)
Interest rates seen rising in 2016
Most economists, as well as Canada's central bank, expect inflation to return to the 2% target early in 2016, when interest rates are most likely to be pushed up.
The Vancouver Sun quoted David Madani of Capital Economics, who said "With the Bank of Canada focused on the struggling economy and the downside risks to underlying inflation, it is unlikely to alter its neutral stance on the direction of interest rates."